Barbados Parliament UNiTEs with UN Women on Ending Violence
Date:
Bridgetown, Barbados:
The Parliament of Barbados joined with the UN Women Multi-Country Office - Caribbean to host an awareness and advocacy exhibit in the West Wing of Parliament for the 16 Days of Activism under the ambit of the UN Secretary-General's UNiTE to End Violence Against Women and Girls Campaign.
The exhibit was launched to the media by His Honour the Speaker, Michael Carrington and UN Women MCO - Caribbean Representative, Christine Arab.
Ms. Arab congratulated the Parliament for taking the initiative noting that across the Caribbean, certain types of violence had become too pervasive that is: sexual violence, intimate partner violence and trafficking in persons.
She added that estimates show that in the Caribbean, 30 to 40% of girls' first sexual experience is forced.
"So today is about recognising that legislation against intimate partner violence is essential and that services to respond to people trying to rise out of violence in the home or elsewhere is essential and justice for the victims is paramount, but at the start of all of this and at the heart of all of this is gender inequality.
She further noted that while the Caribbean laws addressing gender based violence were quite good and that services were in place to support victims: "UN Women will support national partners in improving the implementation of the laws and protocols – such as protection orders and launch prevalence surveys to improve national data on the prevalence of gender-based violence," she added.
She added that UN Women would also be launching primary prevention programmes which would address perceptions about GBV: "where emphasis needs to fall equally is on addressing people's perceptions and learning that it is not ok for someone to hit, it is not a sign of love, it is not what happens."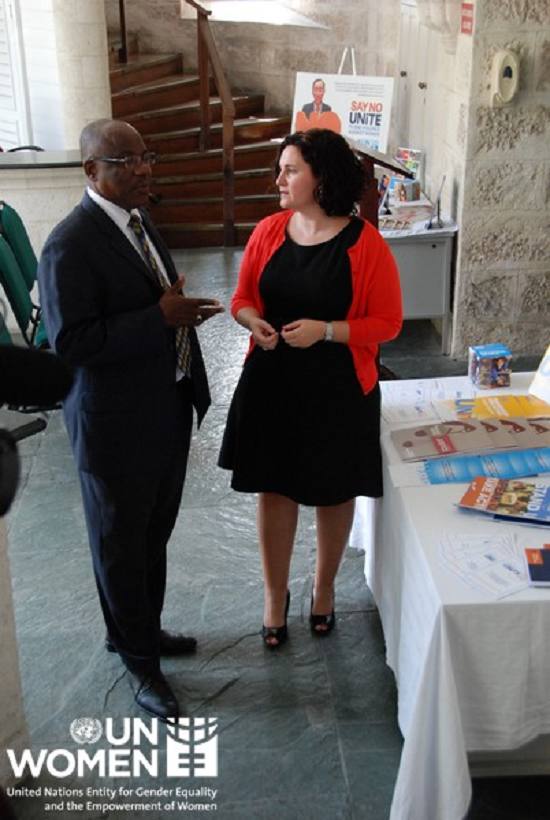 Stressing that he was in full support of the message by UN Secretary-General Ban Ki-moon that violence against women is never acceptable, never excusable, and never tolerable; Speaker Carrington said the exhibit would contribute to the great need of educating persons around what is gender based violence.

"The challenge has to do with education, difficulties will arise because of people not being sensitised to this scourge," the Speaker said.

Ms. Arab said UN Women recognises that boys are also victims of violence and men to a lesser extent, and no violence is acceptable but statistics overwhelmingly show as adults, women wear the brunt of violence. She added, violence against women was one of the most obvious forms of discrimination and it was not just a factor that that works against women and girls.

"It is the same perception of what a young man should be like that shapes him and often not to his fullest potential in the Caribbean, as what a young woman should be like that shapes her in the Caribbean and often not to her fullest potential and that is gender inequality!"

The UN Women Representative also highlighted the UN Women global initiative- I COMMIT, where Governments' in signing on make a firm commitment of action to eradicate all forms of violence against women and girls in their country.