Walk a Mile in Her Shoes
Date: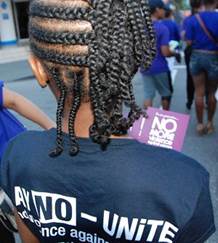 Bridgetown, Barbados: The YWCA Barbados Chapter reiterated their call for a specialised unit in the Royal Barbados Police Force to deal with domestic violence during the recently held Walk A Mile in Her Shoes advocacy and awareness event through the main street of capital Bridgetown.
Beneficiaries of UN Women grant funding for the 2012 observance of 16 Days of Activism, YWCA President Paige Bryan, First Vice President Andrea Taylor and Second Vice-President Damara Smith were joined by members of the YWCA, SAVE Foundation, UN Women, the National Organisation of Women and members of the public.
UNiTE materials, information on classifications and incidence of gender based violence and access to the Crisis Centre Hotline were shared with the Christmas shopping public.