Win-Win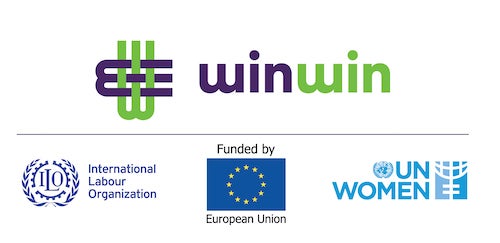 Created through a strategic partnership of UN Women, the European Union and ILO, the Win-Win: Gender Equality means Good Business programme aims to strengthen women's leadership and economic empowerment in the private sector.
The goal is to promote the economic empowerment of women through acknowledging the role of women as beneficiaries and partners of growth and development and increasing the commitment and capacities of private and public actors to drive organisational change regarding gender equality and women's empowerment. Jamaica is the lone Caribbean country in this six-nation programme.
Win-Win Stories
More than 20 Private Sector companies and Civil Society organizations (CSOs) benefitted from a workshop - under the "Win-Win: Gender Equality means Good Business" Programme - to support more effective and targeted corporate planning to create a more enabling business environment in Jamaica that harnesses the capacities (or contributions) of women and men equally to build back better in the wake of COVID-19. Read more >>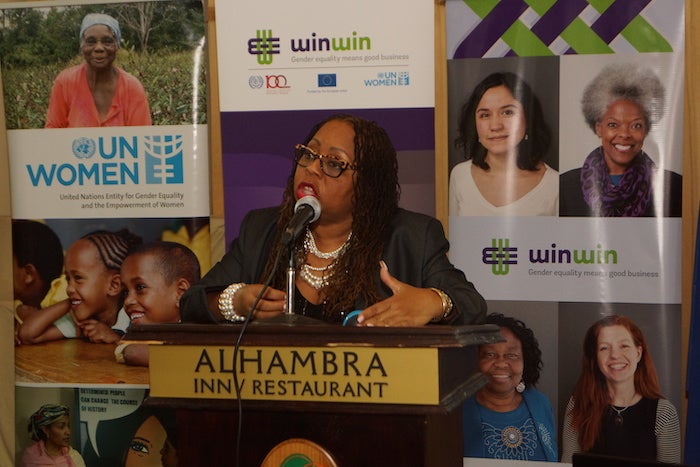 UN Women National Private Sector Specialist for the Win-Win: Gender Equality Means Good Business Programme in Jamaica, Dr. Denise Chevannes-Vogel, has underscored the fact that although the majority of victims are women, sexual harassment is experienced by both women and men and is perpetrated regardless of sexual orientation and gender identity. "It is unwanted and unwelcome and can result in significant social and economic costs in the Jamaican workplace," she said. Dr. Chevannes-Vogel pointed out that sexual harassment leads to an intimidating and hostile work environment in which workers become demotivated, discouraged, emotionally fragile and broken. "They leave and this can result in the cost of having to retrain workers or in very expensive lawsuits," she noted. Read more >>
Women's economic empowerment is one of the main thematic areas of focus of UN Women. This focus is not limited to women's access to personal income, but also to the control and use of resources and the fulfillment of their rights, capacities and interests. This initiative is being implemented in six countries of Latin America and The Caribbean (LAC) – Argentina, Brazil, Chile, Costa Rica, Jamaica and Uruguay, with UN Women Brazil coordinating the programme's regional implementation – and in the European Union.
Media
Contact Us
Find out more about: Win-Win Linkedin | Win-Win LAC | Women's Empowerment Principles
Win-Win Jamaica Coordinator:Dr. Denise Chevannes-Vogel
National Private Sector Specialist, Jamaica,
UN Women Multi-Country Office - Caribbean
c/o UNDP Jamaica
1-3 Lady Musgrave Road
Kingston 5, Jamaica
Tel: +1 876 978 2390-9/619 8637 Ext 2028
Fax:+1 876 946 2163
Email: