Team Mikey Gives Back in support of UNiTE
Date: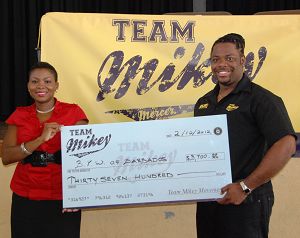 Bridgetown Barbados
: UNiTE artist Michael "Mikey" Mercer recently presented a generous donation in support of the shelter for victims of gender based violence in his native Barbados.
The artist, a successful title holder in the national calypso competitions of Barbados introduced the charity and fundraising and advocacy appeal earlier this year and the proceeds from the sale of "Team Mikey" tee-shirts BDS$3,700.00, were exclusively donated to the Business and Professional Women's Club of Barbados, the local organisation which runs the shelter.

In a radio interview during the advocacy outreach, Mikey said it has never been and can no longer be acceptable where violence is seen as love.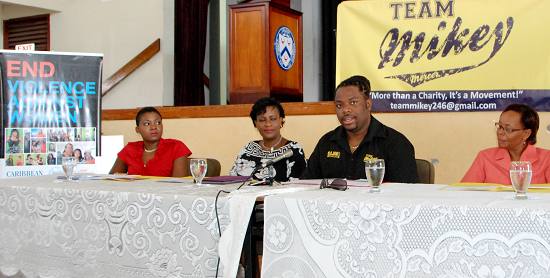 Pledging his continued commitment to the campaign, Mikey said: "The issue is very important to me and it is equally important to share the message of zero tolerance of violence against women, in all the avenues that my music takes me".
An association which began in 2010, Mikey is a part of a network of artists across Latin America and the Caribbean who are calling attention to the right of women and girls to be safe in their homes, communities, workplaces – whatever spaces they find themselves in.
President of the BPW Marianne Burnham in thanking Mikey noted that the funds would were a great fillip to their Crisis Centre hotline and shelter programme which offers short term stay to women and children and also assists the women as they transition back into society.
Ms. Burnham noted that violence against women is often seen as an uncomfortable subject and she noted that through the sensitisation Mikey received as a result of attending workshops in Barbados and overseas under the aegis of the UNiTE to End Violence Against Women Campaign, he is bringing greater awareness to the issue.