Team Mikey for UNiTE
Date: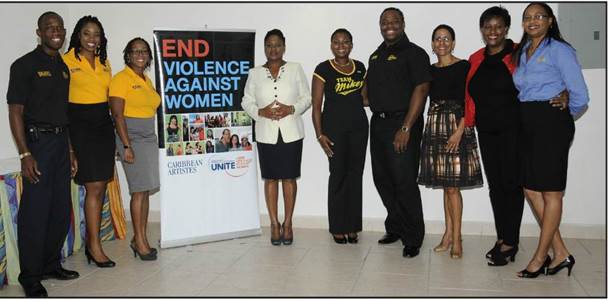 UNiTE Ambassador and Barbadian Soca Artist Michael Mercer launched an advocacy and fundraising appeal for the local shelter for victims of domestic violence. This is a further initiative as part of his advocacy for ending violence against women in support of the United Nations Secretary-General UNiTE to End Violence Against Women Campaign. Part of the proceeds from the sale of Team Mikey shirts will go to help victims of VAW.
UN Women Representative for the Caribbean, Roberta Clarke said: "Music matters, musicians matter and those who produce it like Mikey, are powerful, influential, trend setters. I say today that Mikey in this particular initiative has gone one step beyond and he is a pioneer. In this Team Mikey effort he is spearheading, he is continuing to give his time and his intellectual energy to the campaign.
"Indeed, he is also mobilising the support of others. When he speaks of his corporate support for Team Mikey, he is influential also then in leveraging support to the campaign and that is a tremendous effort for which we are very grateful," she said.