The UNiTE Caribbean Launch ends with a call for greater sensitisation and technical skills-building to enhance the justice response to gender based violence
Date: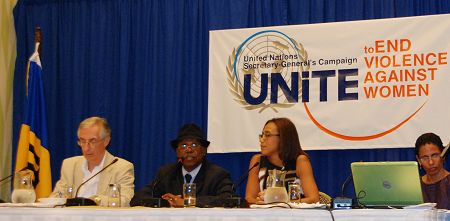 (From left - Mr. Nigel Fisher, Deputy Special Representative, Ad Interim, for the United Nations Stabilization Mission in Haiti (MINUSTAH); Mr. M. Kiari Liman-Tinguiri, UN Resident Coordinator, Guyana; UN Resident Coordinator, Barbados and the Eastern Caribbean, Ms. Michelle Gyles-McDonnough and Regional Programme Director of UNIFEM (part of UN Women) Caribbean Office, Ms. Roberta Clarke.
The Caribbean launch of the United Nations Secretary-General's Unite to End Violence Against Women Campaign concluded with calls to strengthen the administration of justice, particularly through capacity-building for members of the judiciary (at all levels); prosecutors and the police -  to enhance gender sensitisation and awareness in addressing the issue of gender-based violence.  
The meeting also stressed the need to transform culture, definitions of masculinity, and expressions of popular culture, to make them more consistent with peace and equality between men and women. 
The Campaign was launched with the meeting, "Strengthening Accountability and Changing Culture to End Violence against Women in the Caribbean", which was held at the Hilton Hotel in Barbados from 11 to 12 October 2010.  The meeting was attended by Attorneys General, regional Chief Justices and other members of the judiciary, senior representatives of regional police forces;  Ministers of Governments, stakeholders from civil society organisations and representatives of the United Nations agencies in the region. A feature on the first day was a panel discussion with Judge Patrick Robinson, President of the International Criminal Court for the former Yugoslavia, and Sir Dennis Byron, President of the International Criminal Court for Rwanda .
In its deliberations, the Meeting noted that violence against women (which the UNiTE Campaign defines as including girls) extended to such forms as, but was not limited to, domestic violence, sexual assault, child sexual abuse, sexual harassment and sexual exploitation, and trafficking in persons.  In order to address these manifestations of violence against women, participants explored action needed in the areas of social policy, domestic violence, sexual offences and child abuse and made recommendations on the legal, policy and cultural action needed to reduce gender-based violence, particularly as experienced by women to move closer to its elimination. 
Among their recommendations, were improvements in data collection and recording, updated and strengthened legal and policy frameworks, widespread education and social communication strategies, and multi-sectoral responses for addressing violence against women. 
The critical importance of the UNiTE Campaign, and its significance to the Caribbean, was affirmed, and specific note was taken of the Campaign's focus on actively engaging men as partners and advocates for change. The Meeting also stressed the need for active youth participation in spreading the Campaign message both among their peers and throughout the wider society.  A call was also made for national parliamentarians throughout the Caribbean to engage as partners in the Campaign. Additionally, the Meeting expressed its commitment to solidarity and partnership with women and girls in Haiti to overcome violence, inequity and injustice.
The United Nations Secretary-General's UNiTE to End Violence Against Women Campaign (2008-2015) was launched on 28 February 2008, with the overall objective of raising public awareness and increasing political will and resources for preventing and eliminating violence against women and girls, through the achievement of specific outcomes in all countries by 2015.
The "Outcomes Document" of the UNiTE Caribbean Campaign Launch is also available
Additionally, audios from the Conference are available on Radio International Feminista at
http://www.fire.or.cr/index.php/english-home/qunite-to-end-violence-against-women

Material on the global UNiTE Campaign is available at www.unite.org.  For additional information on the Caribbean Campaign, please contact UNIFEM (part of UN Women) EVAW Specialist Tonni Ann Brodber, [ Click to reveal ] , 1-246-467-6000 or Communications Specialist - Sharon Carter-Burke, [ Click to reveal ].