Gender Equality Protocol for Trinidad and Tobago Judicial Officers Launched
Date: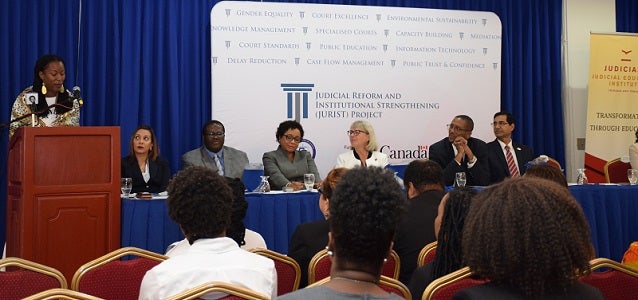 Port of Spain, Trinidad and Tobago: The Judiciary of Trinidad and Tobago launched a signal publication for ensuring gender justice – The Gender Equality Protocol for Judicial Officers. Trinidad and Tobago is the first of 5 Caribbean countries to complete the process.
Launched during the #16Days of Activism to End Gender-Based Violence, the Protocol prioritises issues related to ending violence against women and girls and gender-based violence.
UN Women MCO Caribbean Deputy Representative Tonni Brodber highlighted that drawing on a better practice from Mexico, UN Women MCO Caribbean with support of the Government of Canada and the JURIST Project, developed a draft template which each judiciary would then refine. (UN Women Deputy Rep Remarks)
"These protocols had the greatest impact on my conception of equality and equity. I am now convinced that access to justice must include the realization that just getting into the courtroom is significantly more difficult for some based on their wealth, sex, gender, social status, physical limitations and/or challenges and how these and other factors intersect. I also have a role to identify power imbalances and apply a gender perspective to protect the vulnerable, ensuring equality of results not just process." Master Carl Quamina (Remarks)

The Protocol is a collaboration between the Caribbean Court of Justice; the Caribbean Association of Judicial Officers (CAJO); the JURIST Project; UN Women, the Judicial Education Institute of Trinidad and Tobago (JEITT); and the Trinidad and Tobago Association of Women Judges.