Suriname launches its National Report on the Status of Women and Men
Date: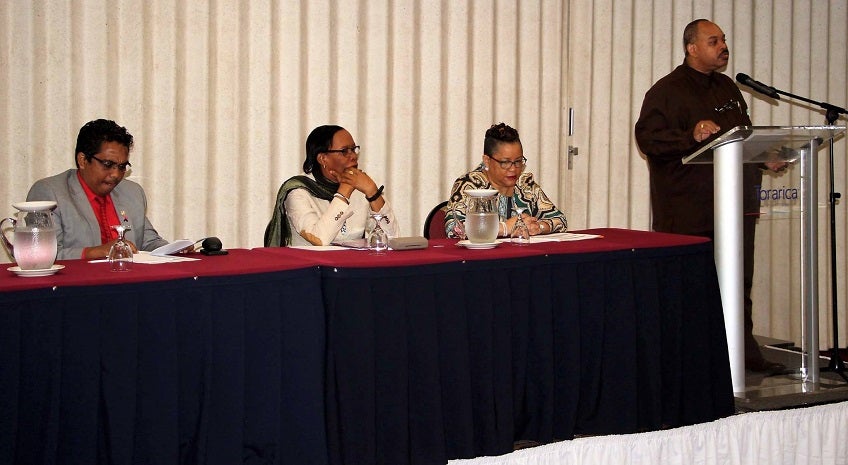 Paramaribo, Suriname – 02 October 2018: With UN Women support, Suriname has released its first "NATIONAL REPORT on the SITUATION ANALYSIS OF WOMEN AND MEN IN SURINAME". For a Government to assess how women and men are faring in the country and to better understand the impact and shaping of policies, it is essential that there is the gender equality analysis of socio-economic data and that such analysis is disseminated on a systematic basis.
Click here to access the Suriname report
Developed by the CARICOM Secretariat Regional Statistics Programme (RSP) and UN Women Multi-Country Office for the Caribbean - the CARICOM Gender Equality Indicators help Governments to assess their progress on gender equality specifically in the areas of economic activity, education, health, public participation and human rights. Suriname is one of the Caribbean countries piloting the GEIs in keeping with its commitment in the Development Plan 2012-2016, with gender as one of the key areas for attention.
Gender mainstreaming is the process of assessing the implications for women and men of any planned action, including legislation, policies or programs, in all areas and at all levels. It is a way to make women's as well as men's concerns and experiences an integral dimension of the design, implementation, monitoring and evaluation of policies and programs in all political, economic and societal spheres so that women and men benefit equally and inequality is not perpetuated. The ultimate goal is to achieve gender equality
[1]
.
Under the overall framework of monitoring the SDGs, the CARICOM GEI supports countries in addressing key policy concerns identified in the Beijing Platform for Action, the Convention of All Forms of Discrimination Against Women (CEDAW) and other international commitments that cover national norms and laws on gender equality across 5 domains: economic activity, education, health, public participation, and human rights. These indicators provide a strong tool for monitoring national gender equality commitments to be realized through policy and programme formulation and implementation. Mainstreaming a gender perspective is the chosen approach of the United Nations system and international community toward realizing progress on women's and girl's rights, as a sub-set of human rights to which the United Nations dedicates itself. It is not a goal or objective on its own. It is a strategy for implementing greater equality for women and girls in relation to men and boys.