SDGs and Governance: Towards Realising Gender Equality
Date: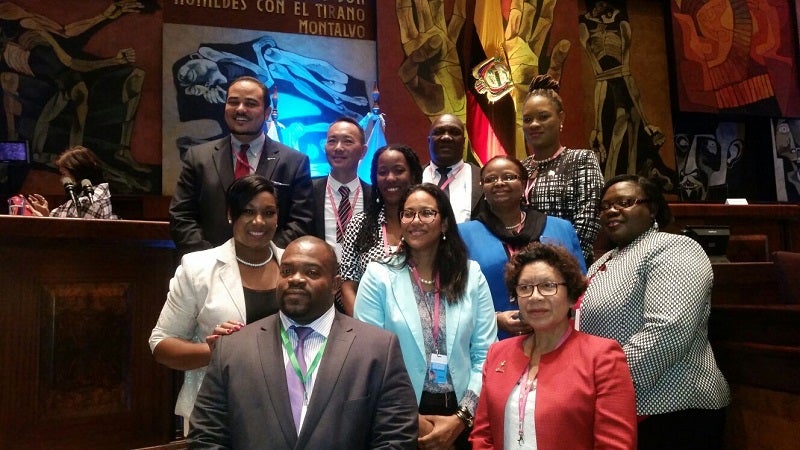 Quito, Ecuador, 3 June 2016: Too often there is a misunderstanding that gender responsive governance is governance specific only to women's rights and needs.
Although women's empowerment is a critical element of gender equality, gender responsive governance addresses the ways in which gender bias and the intersections of ethnic and class discrimination can lead to women, men and youth being left behind, and stall sustainable development.
UN Women MCO Caribbean, Deputy Representative Tonni Brodber recently facilitated a training session for ParlAmericas' Anglophone membership on applying gender and intersectionality to parliamentary work. Participating Caribbean Parliamentarians were drawn from Aruba, the Bahamas, Belize, Guyana, Jamaica, Saint Kitts and Nevis, Sint Maarten, Suriname and Trinidad and Tobago.
"The objective was to give parliamentarians practical skills to apply gender and the intersections of class ethnicity and all other identities in their daily work to ensure the achievement of the SDGs", Ms. Brodber explained.
Other intersecting variables, such as socio-economic status, race, (dis)abilities and age can combine to either result in increased privilege or oppression for women, men, boys and girls; and can vary based on the combination of the intersecting identities and can vary further even among men and women. However, women and girls tend to bear the brunt of oppression.
Caribbean small island developing states (SIDS) continue to face a number of development challenges including citizen insecurity, the impacts of climate change and disasters, high public debt, high poverty, inequality and unemployment.
High levels of gender inequality also persist: manifesting in and perpetuating challenges including domestic violence, the gender-wage gap, unequal burden of care, higher representation of female-headed households among poor households and relatively low presentation in political of women in political leadership.[i]
To this end, ParlAmericas Group of Women Parliamentarians, in collaboration with UN Women Multi-Country Office – Caribbean, recently hosted a sensitisation session for Parliamentarians from the Americas and the Caribbean under the theme "Diversifying Political Power to Build Inclusive Societies".
The SDGs represent an opportunity for leaders and civil society the Caribbean, to adapt the development of the Post-2015 Agenda to their needs and reality and to promote gender-responsive structural changes.
Reflecting on the training, parliamentarians remarked: 'I learned the difference between gender and sex and how I can better apply this in my personal and professional life' and 'this training was fantastic! I learned and benefited so much and it really directly affects my work".


---
[i] Wiltshire, R. UN Common Multi-country Assessment. 2015.