Film festival wins hearts and minds to end violence against women and girls
Date: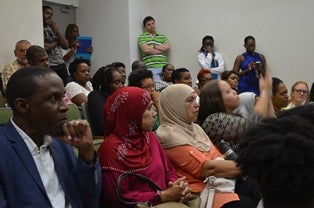 Bridgetown, Barbados: The inaugural Step It Up Film Festival to End Violence Against Women and Girls came to a close at the Errol Barrow Centre for Creative Imagination as a standing room only audience viewed four films by female filmmakers on issues including domestic violence and parental abuse. Audience members stayed on to engage in a lively discussion of the issues with a panel which featured two of the filmmakers and a survivor of domestic violence who appeared in one of the films.
The evening capped off a series of eight nights of activities created to observe 16 Days of Activism to End Violence Against Women and Girls, which runs from November 25 to December 10 each year. Film screenings were held in Barbados, Trinidad and Jamaica and each night examined different themes including violence against the disabled community, violence against the LGBT community, solutions to violence through the arts, persons affected by HIV and AIDS and the way society can raise boys to become non-violent men. All screenings were free and followed by wide ranging discussions amongst audience members.
The film festival is an initiative of United Nations Entity for Gender Equality and the Empowerment of Women (UN Women), under its global campaign of Planet 50/50 by 2030 - Step It Up for Gender Equality. Gender-based violence is one of the most egregious forms of gender-based discrimination. Step It Up asks governments to make national commitments that will close the gender equality gap. Under Step it Up, UN Women worked with several partner organisations including Population Services International - Caribbean, the Institute for Gender and Development Cave Hill Campus - UWI, I Am A Girl Barbados, Errol Barrow Centre for Creative Imagination, United Nations Development Programme (UNDP) and United Nations Children's Fund (UNICEF). 
Tonni Ann Brodber, Deputy Representative, UN Women Multi-Country Office for the Caribbean explains the rationale for the festival.
"On some level I believe people know that violence against women is a serious issue in the Caribbean. It is brought to light when it makes the news or initiatives like 'Walking into Walls' highlight cases from across the region. We felt that it was important to bring the statistics to life and film does this in really inspirational and motivational ways, because it is universally accessible and it allows for us to see ourselves in the lives of others. We tried to source as many Caribbean stories as possible so that the screenings offered a reminder of the realities in the Caribbean and that women, girls, boys and men affected by violence have a life story beyond the statistics. It also offered the opportunity through the Question and Answer sessions, sometimes with survivors, for each audience member to ask themselves what they can do to create a safe and empowering Caribbean."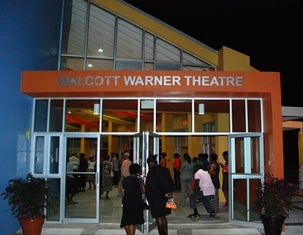 Highlights of the festival included the opening night film,
I Am A Girl
, which followed six girls coming of age in different countries around the world; award-winning documentary,
Art Connect
, which showcased the effects of music, dance and art on a group of at risk youths in Laventille, Trinidad; Oscar winning documentary,
Music by Prudence
, the heartwarming story of a Zimbabwean women born without arms or legs, who has gone on to be lead singer of a band made up entirely of persons with disabilities; and
Children of God
, a Bahamian film about the LGBTQ community and the church.