CARICOM Gender Based Violence Public Campaign Launch
Date: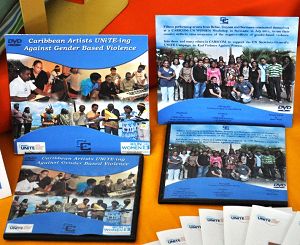 (CARICOM Secretariat, Turkeyen, Greater Georgetown, Guyana) The Caribbean Community Secretariat dovetailed the half-yearly meeting of CARICOM Conference of Heads of Government to launch a variety of creative products that it intends to use in a public education campaign against Gender-Based Violence.
The campaign products were developed last year by 15 Caribbean artists who came together from Belize, Guyana and Suriname at a workshop in Suriname, organized by the Secretariat in collaboration with UN WOMEN, to train Caribbean artistes to raise awareness on Gender-Based Violence and promote positive attitudes and behaviour towards a more gender sensitive community through the use of edutainment. The workshop titled Caribbean Artists UNiTE-ing Against Gender Based Violence, spawned public service announcements (PSAs), jingles, a calypso song and a documentary on sexual, psychological and physical violence.
Through this workshop, artists were given an opportunity to become change agents and contribute to a gender sensitive Community and promote positive messages through their artistic expressions. A special dimension given to the workshop was the fusion of indigenous art forms with popular cultural expressions in the creation of public education products.
In his message to mark IWD 2012, CARICOM Secretary-General Ambassador Irwin LaRocque expressed pleasure at the launch of the campaign products and commended the 15 artists who came together to add their voices to the global campaign to end violence against women.
The Secretary-General seized the opportunity to express his appreciation to UN Women for their sponsorship and collaboration in the project and added that the Community intended to address the urgent need to engage young women and men, girls and boys in advancing gender equality and eliminating and preventing all forms of violence against women and girls.
The public education campaign products will be used to support the United Nations Secretary-Generals UNiTE Campaign to End Violence Against Women and for broadcast through regional media as well as on the internet.
CONTACT: [ Click to reveal ]