Domestic Work is Work
Date: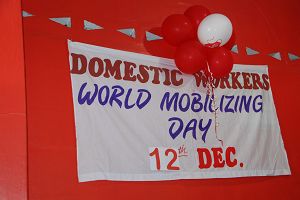 Marking the 2012 observance of International Human Rights Day, Caribbean domestic workers pressed for official recognition of domestic work as valid work alongside other categories of work. A milestone they hope to achieve by the time another international day wends around - International Women's Day in March 2013 - if not sooner.
The once in a lifetime date, 12/12/12, saw the Caribbean Domestic Workers Network (CDWN) launch a regional initiative calling on governments to take urgent action to enhance the quality of life of the many thousands of domestic workers in the region.
The CDWN initiative was a part of global actions by trade unions in 41 countries calling for the ratification and implementation of ILO Convention 189 - the Domestic Workers Convention, 2011.
UN Women Executive Director Michelle Bachelet in a statement on the Adoption of the ILO Convention 189 and Recommendations on Decent Work for Domestic Workers noted:
"Decent work for domestic workers is an issue of particular importance to UN Women. Our Strategic Plan identifies women's economic empowerment as a thematic priority, in which we commit to partner with ILO and others to support national priorities on decent work, asset-building and extension of labour protections for all women workers, including migrant workers and domestic workers".
To this end, the UN Women Caribbean Office and the International Labour Organisation in Trinidad and Tobago, is supporting the CDWN in its institutional strengthening. Such support includes leadership development whereby the voices and influence of domestic workers can advance a wider societal understanding and commitment to decent work standards for domestic workers.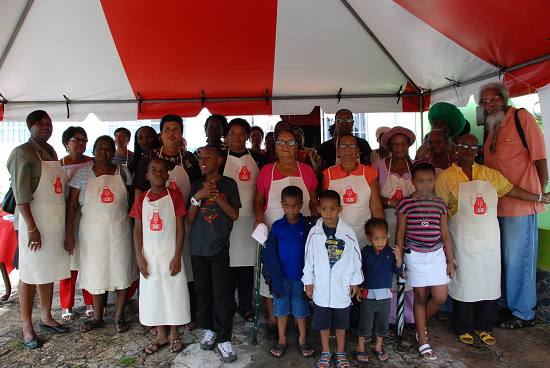 In Trinidad and Tobago, the National Union of Domestic Employees (NUDE), a member of CDWN, held a press conference at its Arima headquarters to call attention to the plight of domestic workers. General Secretary Ida LeBlanc noted they were not only seeking nationally to ensure they enjoy rights and protection as all other workers, but stressed there was a Caribbean focus too, given that the domestic workers also included a category of vulnerable workers who were migrant workers.
The CDWN is also pressing for the administrative requirements to be put in place to ensure the free movement of domestic employees as is guaranteed under the CARICOM Single Market and Economy.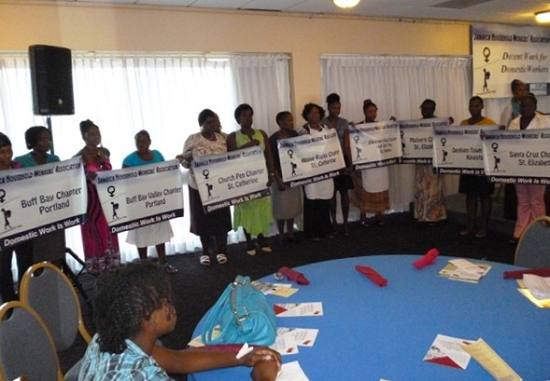 In Jamaica on 15 December, domestic workers and partners from across the island participated in a rally wearing aprons stressing that "all workers must be counted" and "domestic work is work".
Shirley Pryce, President of the Jamaica Household Workers' Association (JHWA), also a founding member organisation of the CDWN, noted that they also took the opportunity to launch district chapters of the JHWA.
The member unions of the CDWN are: Antigua and Barbuda Trades and Labour Union (ATLU); Barbados Workers' Union, Red Thread, Guyana; JHWA; CAFRA-Saint Lucia; NUDE; and the Transport Industrial Workers' Union (TIWU), Trinidad and Tobago.