Global Affairs Canada, UN Agencies and Government of Saint Lucia launch the Build Back Equal Project (BBE) for vulnerable populations
Date:
11th May 2022, RODNEY BAY, St. Lucia – Women in St. Lucia will benefit from a social protection project, funded by Global Affairs Canada, that will boost women's economic resilience by tackling the barriers that exacerbate their vulnerabilities to achieving economic empowerment. Co-led by UN Women and UNFPA, in partnership with the Government of St. Lucia, the Build Back Equal project was launched today at the Bay Gardens Inn to provide sustainable opportunities for women's economic growth that will contribute to COVID-19 recovery.
The project will build on Saint Lucia's commitment to gender equality by prioritising access to safe, accessible, and affordable childcare services, increasing women's opportunities to pursue employment and build businesses and reinforce existing social protection measures. Build Back Equal follows on agreed conclusions from Commission on the Status of Women where there was keen focus on the economic and social fallout of the COVID-19 pandemic on small island developing states (SIDS) and their obligations to international treaties.
In delivering remarks, the St. Lucia Prime Minister and Minister for Finance, Economic Development and the Youth Economy, the Honourable Philip J. Pierre welcomed the Build Back Equal project which would focus on the needs of women in the Eastern Caribbean by building on previous development programmes.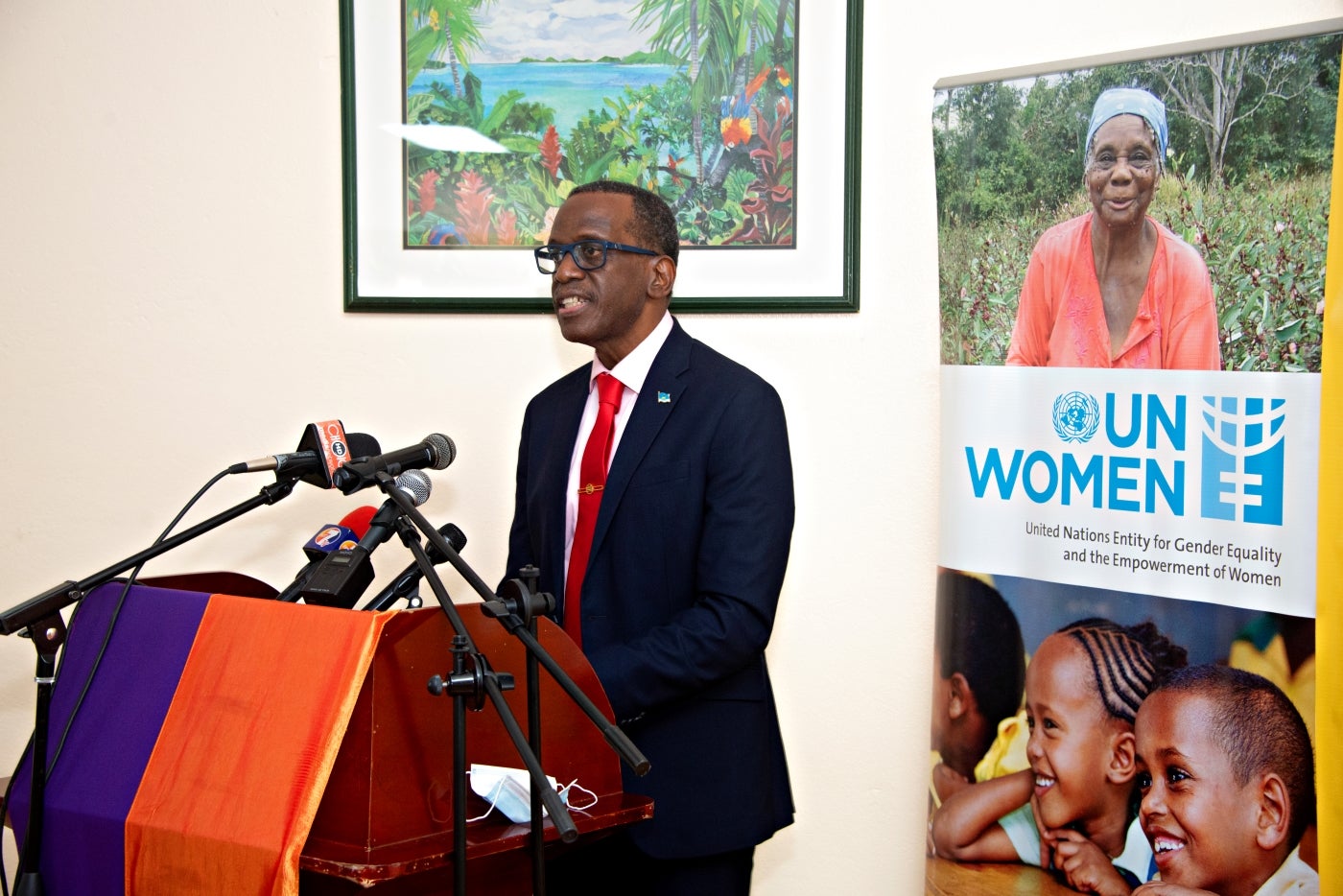 Prime Minister and Minister for Finance, Economic Development and the Youth Economy, the Honourable Philip J. Pierre delivers remarks at the regional launch of the Build Back Equal Project – UN Women Photo/Bill Mortley
Honourable Pierre said: "The fact that we need to build back with the inclusion of the word equal, signified those inequalities existed before we needed to rebuild…This project was conceptualized and designed with a new approach to ensure that the weaknesses of past interventions are taken into account. It will also address the pressing social protection needs for marginalized women in four OECS countries in the aftermath of the COVID19 pandemic."
Echoing the messaging behind the 2022 International Women's Day theme "Gender Equality Today for a Sustainable Tomorrow", High Commissioner of Canada in Barbados, Her Excellency Lilian Chatterjee, acknowledged the importance of women's participation in accelerating St. Lucia's national development.
The High Commissioner said: Today, we are proud to partner with UN Women and the United Nations Population Fund.  These are partners who understand the critical role played by women and girls as agents of change of shaping the futures of their societies. We now have an opportunity to do more than build back better from the COVID-19 pandemic, but to build back equal—to rebuild in a way that advances gender equality and the empowerment of women and girls in all their diversity."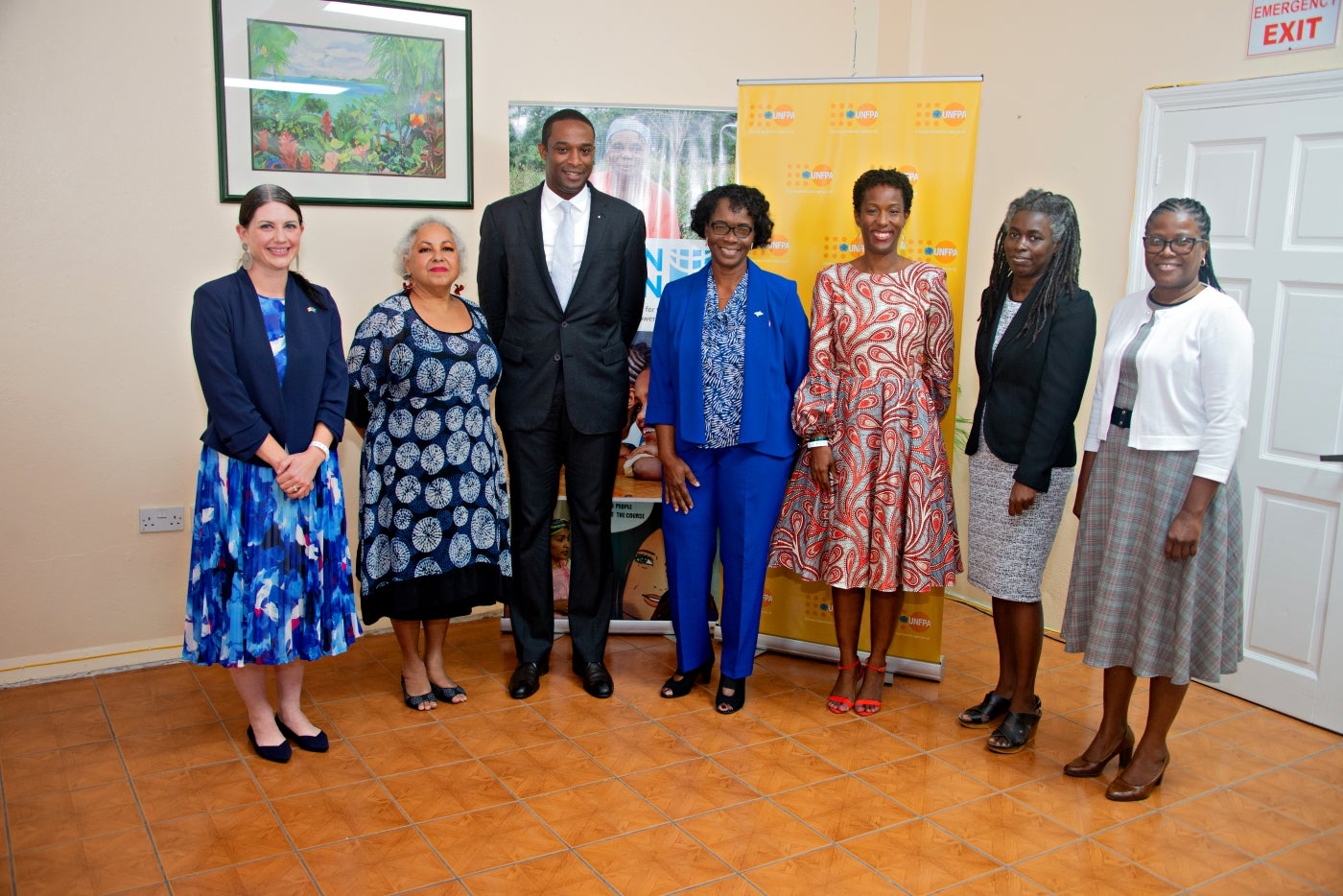 (L-R) Ms Ashley Crossley, First Secretary – Caribbean Regional Development Program, High Commission of Canada in Barbados; Ms Alison Drayton, Director and Representative, United Nations Population Fund (UNFPA) Sub-Regional Office for the Caribbean; Honourable Shawn Edward, Minister for Youth Development and Sports; Honourable Dr Virginia Albert-Poyotte, Minister for the Public Service, Home Affairs, Labour and Gender Affairs, Ms Tonni Brodber, Representative, UN Women Multi Country Office -Caribbean; Dr. Carlene Radix, Head of Human and Social Division, OECS Commission; Ms Janey Joseph, Director – Gender Relations, Ministry of the Public Service, Labour and Gender Affairs, Saint Lucia – UN Women Photo/Bill Mortley
According to the pre-pandemic data, Gender Responsive and Multi-Dimensional Socio-Economic and Climate-Based Vulnerability Analysis of the Saint Lucia Survey of Living Conditions and Household Budgets 2016, poverty rates are higher in female-headed households (42.3%) and the share of poor children living in female-headed households increased from 48.6% in 2006, to 58.2% in 2016.
The COVID-19 pandemic and the devastating impact of recent natural hazards have revealed the disproportionate impact on women's livelihoods through loss of employment in the hazard affected sectors like tourism and agriculture; the precarity of their employment as the majority in the informal sector; the increased responsibilities for child and elder care; the increased incidences of gender-based violence and reduced access to sexual and reproductive health services.
Building on extensive consultations with labour unions, government stakeholders, academia and the private sector in St. Lucia and existing local data, the Representative, UN Women Multi Country Office – Caribbean, Ms Tonni Brodber noted that women are up against an unprecedented set of challenges in the Caribbean, which demands urgent action to recovery from the impacts of the pandemic.