16 Days of Activism Against Gender Violence - Caribbean Observance
Date: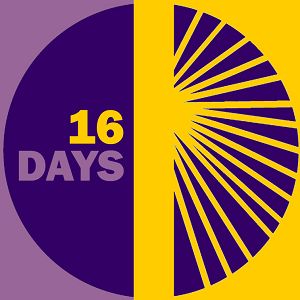 The
16 Days of Activism Against Gender Violence
is an international campaign originating from the first Women's Global Leadership Institute sponsored by the Center for Women's Global Leadership in 1991. Participants chose the dates, November 25, International Day Against Violence Against Women, and December 10, International Human Rights Day, in order to symbolically link violence against women and human rights and to emphasize that such violence is a human rights violation.
This 16-day period also highlights other significant dates, including November 29, International Women Human Rights Defenders Day, December 1, World AIDS Day, and December 6, the Anniversary of the Montreal Massacre. The 16 Days of Activism focuses on:
raising awareness at the local, national, regional and international levels about gender-based violence
strengthening local work
linking local and global work
providing a forum for dialogue and strategy-sharing
pressuring governments to implement commitments made in national and international legal instruments
demonstrating the solidarity of activists around the world
Please click here for Barbados' activities
Please click here for Belize's activities
Please click here for Grenada's activities
Please click here for Jamaica's activities
Please click here for Trinidad and Tobago's activities
United Nations in the Caribbean:   activities on ending violence against women
The In Her Shoes Exhibit against Gender Violence, mounted by the YWCA in collaboration with the United Nations Country Team in Trinidad and Tobago, begins in Chaguanas and will be taken to venues throughout the country over the next two weeks. Schedule and additional information: [ Click to reveal ]
The United Nations Country Team in Guyana is hosting a panel discussion in collaboration with the Guyana Association of Professional Workers, and an Interfaith Service on the Ministry of Human Services compound in Georgetown.  The Country Team, together with the Women's Affairs Bureau and the Men's Affairs Bureau of the Ministry of Human Services and Social Security, has also organised candle light vigils throughout the country, discussion sessions in communities, radio and television programmes (national and local), and other events that will continue throughout the 16 Days of Activism against Gender Violence.   Additional information: [ Click to reveal ]  
In Barbados, Roberta Clarke, Regional Director of the UN Women Caribbean Office has issued a statement on violence against women in the Caribbean and approaches being taken to address this issue. 
The Business and Professional Women's Club (BPW) of Barbados premiered "Fantasy Shot" – A locally produced documentary on domestic violence which is supported by the UN Women Caribbean Office on 25 Nov 2011 - 19:30. UNiTE artist Terencia Coward co-hosted the event. For further information, please email:[ Click to reveal ].
The Ministry of Youth, Sports and Culture, and the Bureau of Women's Affairs presented a celebratory concert at Emancipation Park Oxford Road, Jamaica to commemorate International Day for the Elimination of Violence Against Women which included performances by the UNiTE Jamaica artistes. The concert was  coordinated under the aegis of the "Way Out Project" with support from UN Women and UNFPA.
The UNFPA in Suriname, in collaboration with the Foundation Stop Violence against Women and the Ministry of Justice and Police, will host a seminar themed "Collaboration for prevention and combat of Domestic Violence: a must" on 30 November.  Additional information: [ Click to reveal ]
Secretary-General's Message calls for youth action to end violence against women
"Youth leadership in preventing and ending violence against women and girls" is the theme of this year's commemoration.  In his Message, the Secretary-General calls on young people to share the zero tolerance messageand makes a special appeal to young men and boys to take action that promotes "healthy models of masculinity" and that can "help break the ingrained behaviour of generations." Read the Message
Other messages and statements:
Deputy Secretary-General, Asha-Rose Migiro to Association for Women's Sanctuary and Development in Addis Ababa – 22 November. Remarks and News Story
UN Women Executive Director, Michelle Bachelet at United Nations commemoration on 23 November. Statement and Policy Agenda
Mobilising youth to end violence
United Nations Youth Champion, Monique Coleman, was the moderator of the official United Nations ceremony held on 23 November in New York to commemorate the Day.  The event, which focused on the role of youth in ending violence against women and girls, featured statements from Secretary-General, Ban Ki-moon, and UN Women Executive Director, Michelle Bachelet, as well as testimonies and performances by young participants. News Story and Video
Monique Coleman interviews the Secretary-General on the Role of Youth in Ending Violence against Women.