Bermuda Stock Exchange 'Rings the bell for gender equality' on International Women's Day 2022
Date: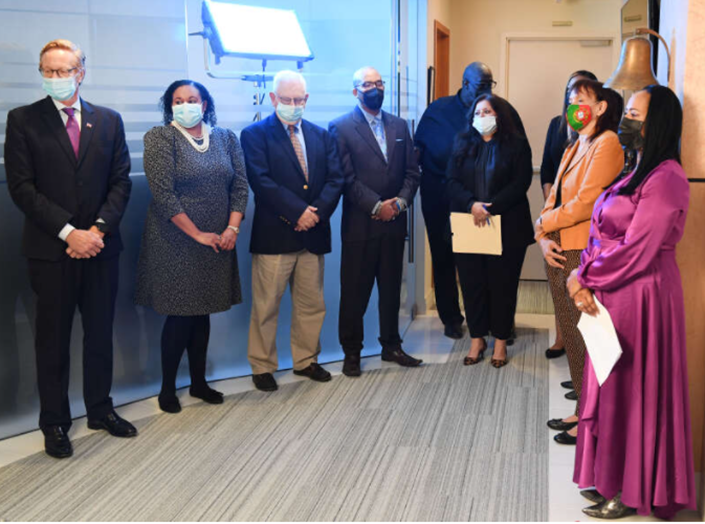 The Bermuda Stock Exchange (BSX) joined a record number of 118 exchanges and central counterparties (CCPs) around the world to commemorate the eighth annual 'Ring the Bell for Gender Equality' campaign, to raise awareness about the role and opportunities for the private sector to advance gender equality and sustainable development.
The BSX joins the Jamaica and Trinidad and Tobago Stock Exchanges in ringing the opening or closing bells to celebrate International Women's Day 2022 – during the Month of March.
The Ring the Bell for Gender Equality ceremony brought together public and private partners, including Her Excellency Alison Crocket, the Acting Governor of Bermuda and Hon Tinée Furbert, Minister of Social Development and Seniors.
Minister Furbert applauded the BSX for leading this initiative in Bermuda and highlighted the transformational impact  on the private sector could bring for gender equality and citizens in all their diversity.
She said: "For a company like BSX to be so willing to register and participate in the Ring the Bell initiative, gives me great hope for the investment in gender equality and women's empowerment in the private sector. If all companies commit to doing their part, along with the Government of Bermuda, our country can achieve gender equality today for a sustainable tomorrow."
Representative, UN Women Multi Country Office – Caribbean, Tonni Brodber commended the evident strides made towards gender equality in Bermuda. She called on local investors and companies to become allies by demonstrating their commitment to women's empowerment by becoming signatories to the Women's Empowerment Principles (WEPs) and designing innovative financial instruments to ensure no one is left behind.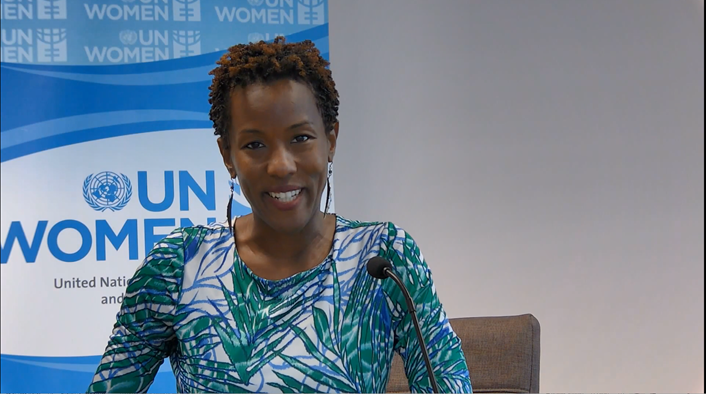 "We look forward to seeing Bermudan companies sign on to the WEPs, an effective tool for the private sector to support the objectives established by the National Policy for Gender Equality and the implementation of the 2030 Global Agenda for Sustainable Development, as well as a means to ensure you're just doing good business."
She continued: "To usher in gender equality and ensure the inclusion of women's talent, skills and energy - from executive offices to factories and supply chains - requires companies to move from engagement to action, and adopt decisive, visible, quantifiable and measurable measures and policies specifically aimed at achieving this objective."
In his opening remarks, Greg Wojciechowski, BSX President and CEO acknowledged the importance for the stock exchange in participating in the Ring the Bell initiative to not only recognise the contributions of women in finance, including managing capital markets but also their roles in leading the charge on climate change adaptation, mitigation and response.
The Ring the Bell campaign is coordinated by International Finance Corporation (IFC), Sustainable Stock Exchanges (SSE) initiative, UN Global Compact, UN Women and The World Federation of Exchanges.
Participating exchanges that have participated in the past seven years of ringing the bell for gender equality have made progress by:
Promoting women's access to finance and encouraging women to invest in public markets.
Developing new products, such as sustainability-linked bonds with gender criteria and gender bonds.
Signing and adopting the Women's Empowerment Principles, which offer guidance to businesses on how to promote gender equality and women's empowerment in the workplace, marketplace and community
Promoting gender equality listing criteria and gender data disclosure