Private sector in Guyana commits to Women's Empowerment Principles to advance Gender Equality
Date: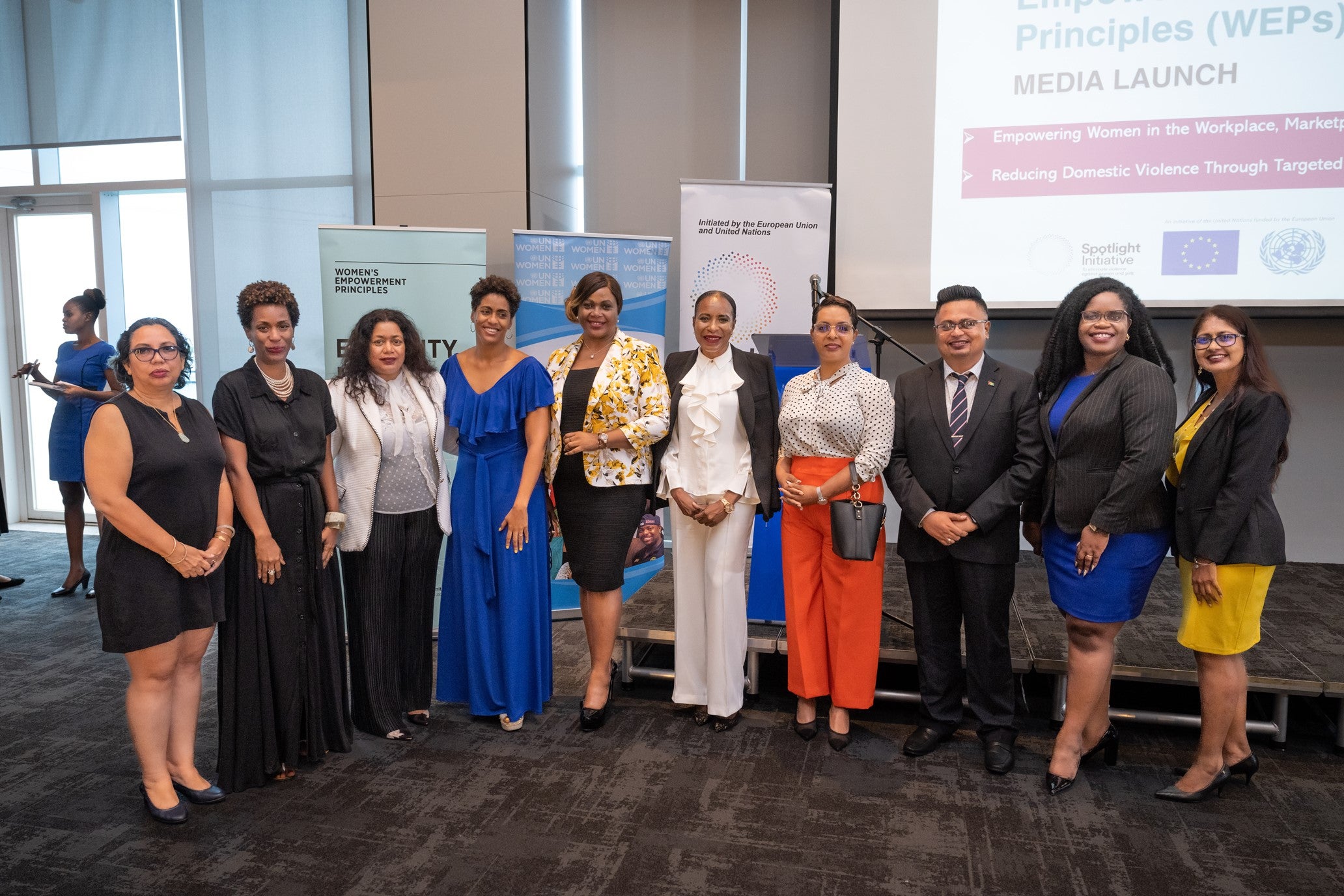 Some of the representatives from companies that have made commitments to the Women's Empowerment Principles (WEPs)
UN Women Photo / Trevor Smith
GEORGETOWN, GUYANA - "Societies and communities with higher levels of gender equality exhibit lower levels of violence and greater social cohesion.  Recent research conducted by UN Women on the economic cost of Violence Against Women and Girls in another Caribbean country in the region demonstrated that gender-based violence contributes to significant annual output loss to the private sector. This violence affects staff members' health and their performance."
Representative, UN Women Multi-Country Office – Caribbean, Ms. Tonni Brodber highlighted this nexus of eliminating gender-based violence as part of a comprehensive approach of centering gender equality in the development agenda, if Guyana and other Caribbean countries are to realise their development goals, including the health of the people and economic and social growth.  The UN Women official was at the time delivering remarks to the launch of the Women's Empowerment Principles (WEPs) held under the EU-funded, Spotlight Initiative in Guyana to increase awareness of the role of the private sector said: "The elimination of violence against women in Guyana should also be a priority of the private sector."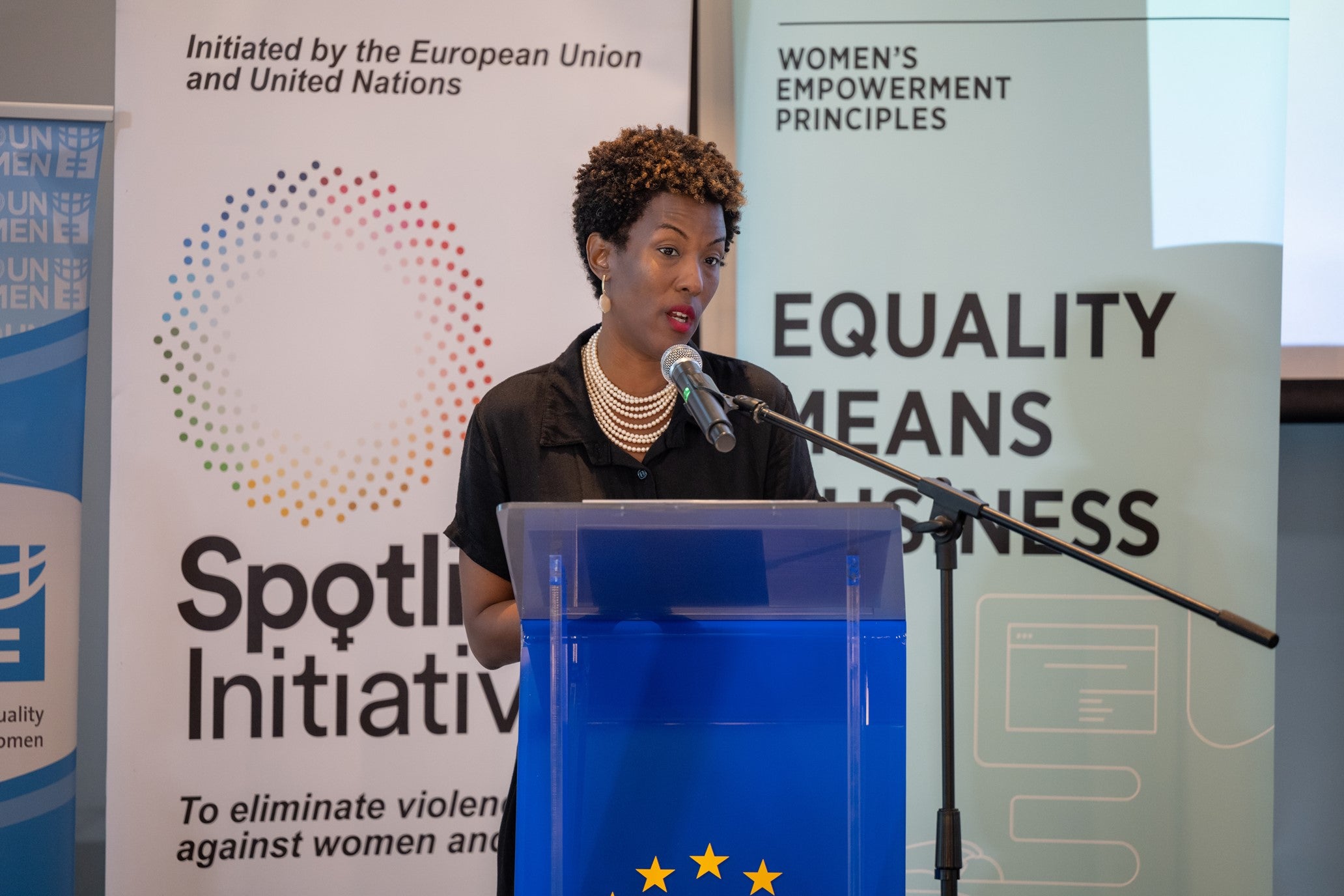 Representative, UN Women Multi – Country Office – Caribbean, Tonni Brodber delivering remarks. UN Women/Trevor Smith
Launched in 2010 by UN Women and the UN Global Compact, the Women's Empowerment Principles (WEPs) are a set of Principles offering guidance to businesses on how to promote gender equality and women's empowerment in the workplace, marketplace and community.
The private sectors companies at the launch, including seventeen (17) WEPs signatories announced their commitments to the Principles which they are implementing through workplace policies for Domestic Violence victims/survivors as well as Paternity Leave. They advocated for more members of the private sector in Guyana to endorse and action the WEPs.  This took place as attendees openly expressed concern for the recent fire in Mahdia where 19 children, mostly Indigenous girls aged 12 to 18, died.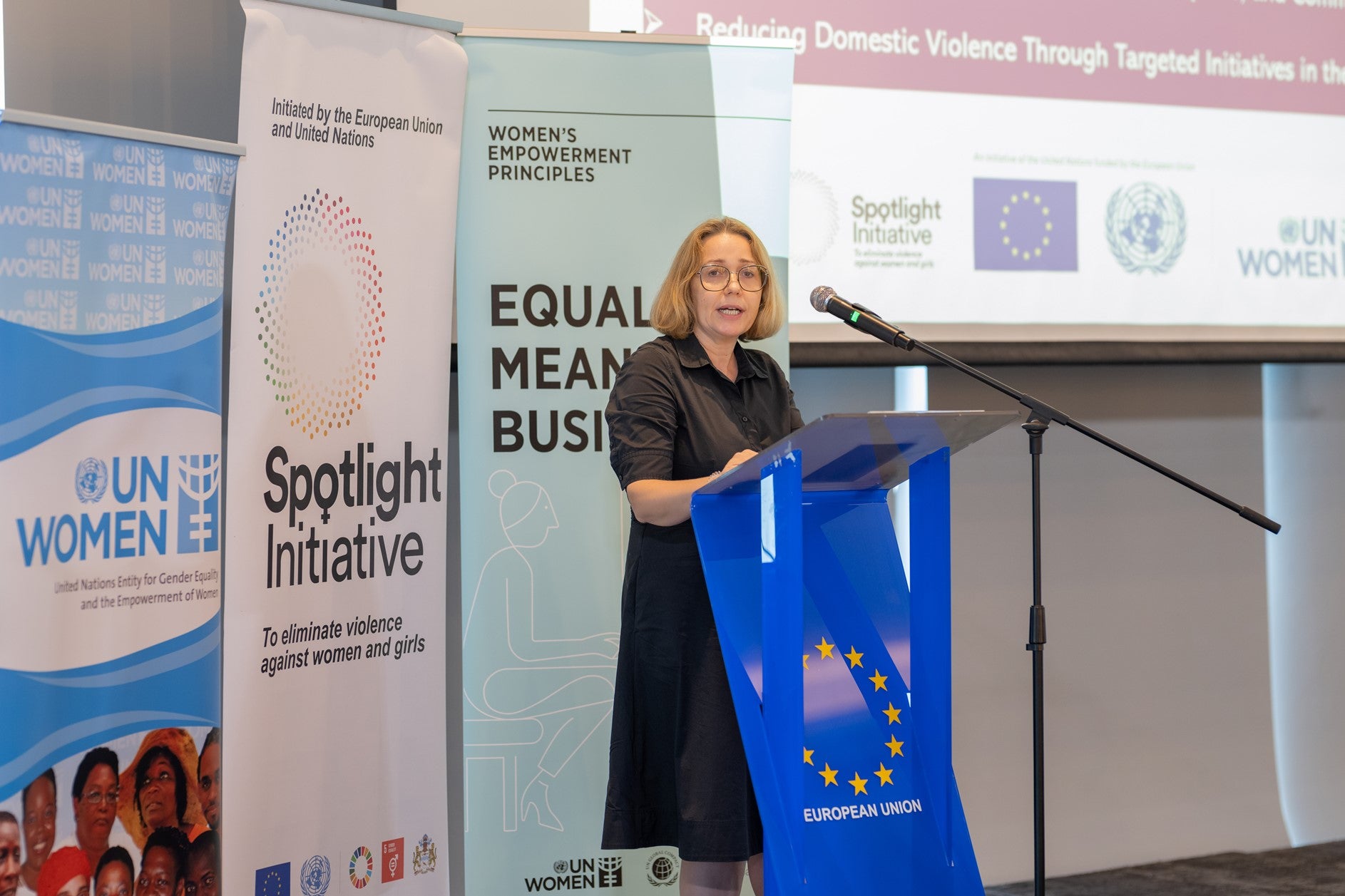 Ms. Evelina Melbarzde, Deputy Head of Delegation of the European Union to Guyana, Suriname and with responsibility for Aruba, Bonaire, Curaçao, Saba, St Barthelemy, St. Eustatius, and St. Maarten. UN Women/ Trevor Smith
Deputy Head of Delegation of the European Union to Guyana, Suriname and with responsibility for Aruba, Bonaire, Curaçao, Saba, St Barthelemy, St. Eustatius, and St. Maarten, Ms. Evelina Melbarzde commended the UN and government on the collaboration with a wide group of stakeholders towards preventing and eliminating violence against women.
"I am very happy here today to see that we are no longer just focusing on one cause, but we are also looking at the preventative measures. It is with great gratitude that I am here today to thank particularly the UN partners but also the government who have so far been very successful and to congratulate all of you for your involvement. It is very important to create a safe environment to empower women and to fight gender-based violence", said Ms Melbarzde.
Wasim Khan, Professional Guard Services (PGS), WEPs Signatory delivers remarks about the company's experience implementing the Women's Empowerment Principles into their corporate practices. UN Women/Trevor Smith
Eight (8) private sector companies in Guyana have created Gender Action Plans and are implementing policies that align with the WEPs. Two videos featuring these companies' actions were also shared at the launch.
By signing the WEPs, these companies have committed to advancing gender equality through implementing the following principles:
Establish high-level corporate leadership for gender equality.
Treat all women and men fairly at work - respect and support human rights and nondiscrimination.
Ensure the health, safety and well-being of all women and men workers.
Promote education, training and professional development for women.
Implement enterprise development, supply chain and marketing practices that empower women.
Promote equality through community initiatives and advocacy.
Measure and publicly report on progress to achieve gender equality.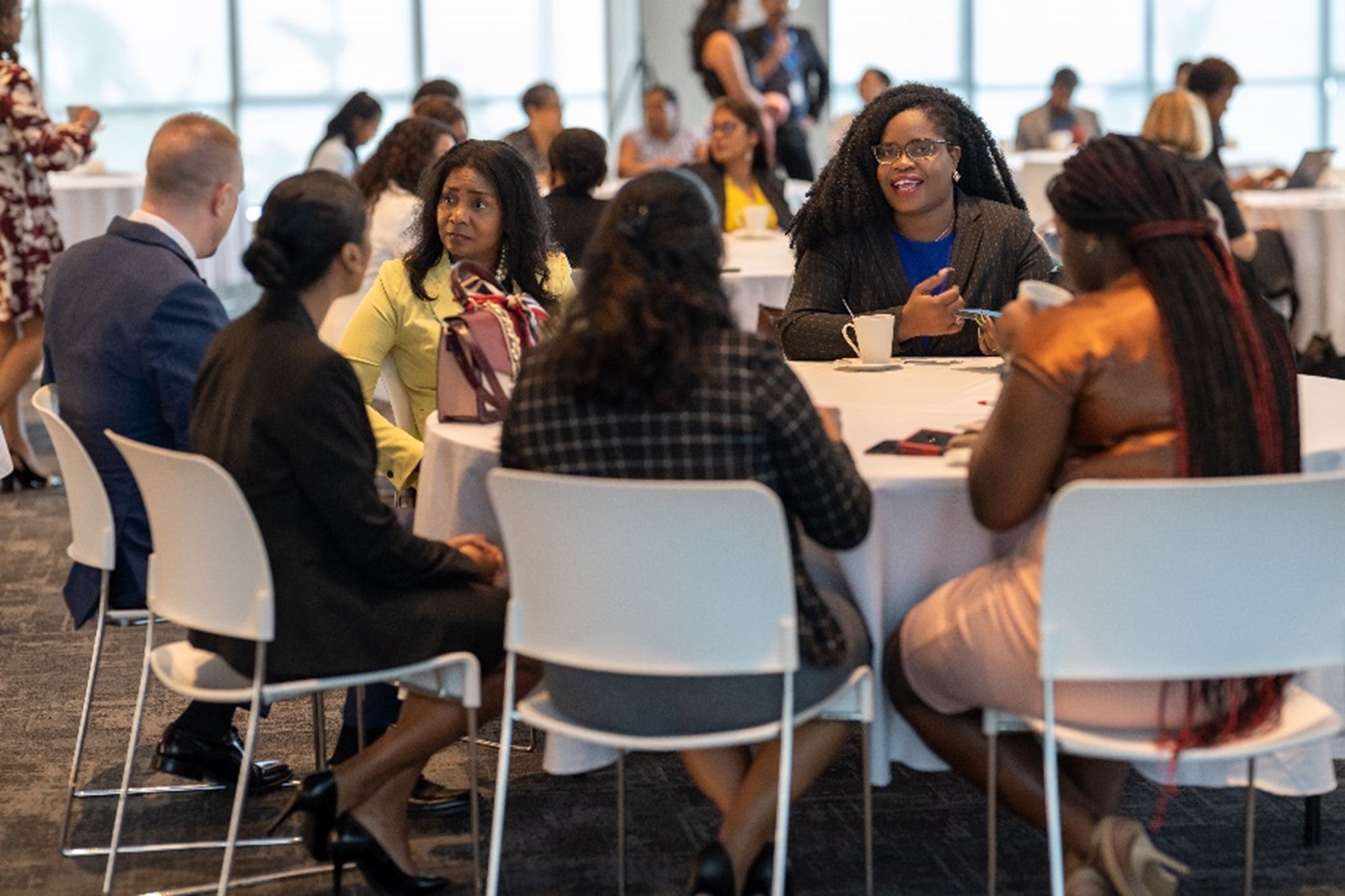 Attendees participate in a roundtable mixer during the event. UN Women/Trevor Smith
The activity was conducted within the framework of Pillar 3 of the ongoing Spotlight Initiative Project, which focuses on gender inequitable social norms, attitudes and behaviour change at community and individual levels to prevent violence against women and girls and design an inclusive future for men, women, boys and girls in Guyana.