New App Identifies Unsafe Places
SafetiPin lets users share safety details for any location
Date:
New app identifies unsafe places
SafetiPin lets users share safety details for any location
Port of Spain, December, 2014 — A map-based mobile phone application that crowdsources and maps information about safety concerns in different communities is now available for download in the Microsoft Windows Phone store.
According to UN Women, at least one in three women worldwide has suffered from violence by someone known to her. SafetiPin, a free app which was launched in November 2013 by developers in India to address personal safety for women in that country, allows users to share information on and discuss the security and safety of their neighbourhood.
The Network of NGOs of Trinidad and Tobago for the Advancement of Women demonstrated the app and recommended its use during a recent information fair to commemorate International Day for the Elimination of Violence Against Women. During the event held by the Ministry of Gender, Youth and Child Development on the Brian Lara Promenade, the NGO lead members of the public on a walk around Independence Square to test the app.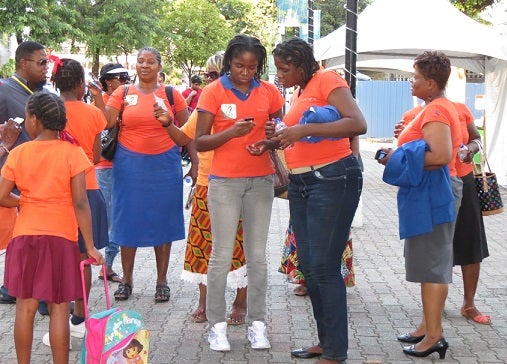 "In Trinidad and Tobago, there is a need for communities to identify unsafe situations and to use the appropriate tools for community policing to ensure safer spaces," said Terry Ince, project manager, Women's Transformational Leadership in Politics Project. "SafetiPin provides an opportunity for individuals, groups, and organisations to play an integral part in creating safer communities by leveraging the Global Positioning System technology and audits that is at the app's core."
The SafetiPin app provides a wide range of features including:
The ability to set up a wall for a neighbourhood to post and review recent comments in the area
The safety score of an area
A heat map to check if there are any red zones in the neighbourhood
Audit pins for details on lighting and security
A tracker that can be switched on when travelling alone or at night
Access to emergency numbers and nearby safety services like police stations or hospitals
An emergency button for alerting designated emergency contacts through text messaging and email
Microsoft Technical Evangelist Yudhistre Vinni Jonas said: "Microsoft T&T together with Nokia was pleased to work with The Network of NGOs by providing the Windows Phone devices with the SafetiPin app pre-installed for demonstrating to the public and testing around Independence Square."
To get the app, log in to the Windows Phone store and search SafetiPin. Install the app and follow the instructions.