Human Rights Day 2012 - Inclusion and the Right to Participate in Public Life
Date:
Message of Michelle Bachelet, Under-Secretary-General and Executive Director of UN Women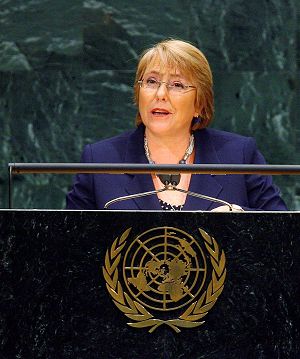 Today, on this Human Rights Day, we celebrate the right of all people to make their voices heard and participate fully in public life. Yet the voices of too many women and girls continue to be stifled through discrimination, threats and violence. This is holding back progress for women and for all members of society.
Women's participation is fundamental for sustainable development, peace and democracy.
It is time to remove the barriers to women's full and equal participation in the economy, in politics and in all aspects of public life.
Today I call for more women leaders. Women's voices need to be heard in parliament, in village councils, in trade unions, in peace talks, in government cabinets, in corporate boards and in all areas of public life.
When women and men lead together, decisions better reflect and respond to the diverse needs of society. Countries and companies with higher levels of gender equality have higher levels of growth and performance. Women leaders inspire young women and girls to expand their horizons, and pave the way for equality.
Yet while women constitute 51% of the world's population, they remain grossly under-represented across public life. Only 21 women are Heads of State or Government, only 1 in 5 parliamentarians is a woman, and less than 10 percent of peace negotiators are women.
To make equality real, it is time to repeal discriminatory laws and policies, and align laws with international human rights treaties. It is time to open the doors and take affirmative action by enacting temporary special measures such as quotas.
It is time to unleash women's full participation in peace and security. Wherever there is conflict, whether in northern Mali, the Democratic Republic of the Congo, or Syria, women must be part of the solution. Only solutions that are inclusive of all in society can be sustainable. It is time to advance equal rights, equal opportunities and equal participation.
Today on Human Rights, Day, let us recommit to realizing the vision in the Universal Declaration of Human Rights that all people are born free and equal in dignity and human rights. Let us remove all obstacles that hold women back and deny their equal opportunity. Let us fully embrace the tremendous potential of half the world's population. Women have a vision. Women have a voice. It needs to be heard.