NUDE speaks on the Convention Concerning Decent work for Domestic Workers
Date: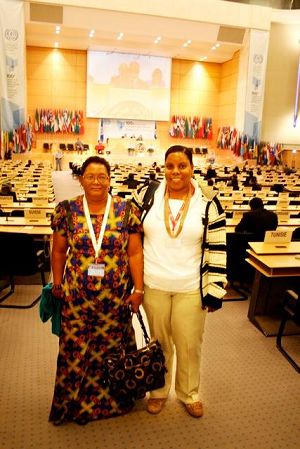 General Secretary of the National Union of Domestic Employees of Trinidad and Tobago, Ida LeBlanc addressing the United Nations 100th Session of the International Labour Conference in Geneva earlier this month, stressed that the Convention concerning decent work for domestic workers was very important because it had only come about after decades of struggling to get a rightful place for domestic workers in the world of work.
Speaking on  behalf of the Workers' delegation for Trinidad and Tobago, and as the Caribbean Regional Coordinator for the International Domestic Workers' Network, Ms LeBlanc stressed the importance of Domestic workers being "recognised as workers and their status brought into line with that of all other workers."

The government, worker and employer delegates at the 100th annual Conference of the International Labour Organisation (ILO) on Thursday, 16 June adopted a historic set of international standards aimed at improving the working conditions of tens of millions of domestic workers worldwide.

The new ILO standards set out that domestic workers around the world who care for families and households must have the same basic labour rights as those available to other workers: reasonable hours of work, weekly rest of at least 24 consecutive hours, a limit on in-kind payment, clear information on terms and conditions of employment, as well as respect for fundamental principles and rights at work includingfreedom of association and the right to collective bargaining.
UN Women, in collaboration with the ILO Office for the Caribbean, is supporting the renewed efforts of the National Union of Domestic Employees (NUDE) of Trinidad and Tobago to mobilise domestic workers, while strengthening their capacity to represent and defend the rights and interests of domestic workers.  
30.
For further information, please contact:Sharon Carter-Burke - Communications Specialist - UN WOMEN (Caribbean Office), Tel: (246) 467-6000 ext. 6124, Fax: (246) 437-6596
Email: [Click here to reveal]