Building Responsive Policy - Gender Sexual Culture and HIV and AIDS in the Caribbean
Date: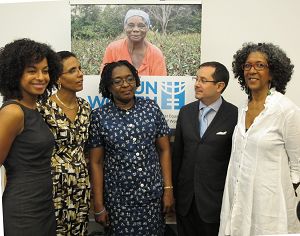 Policies and approaches for stemming and reversing the tide on HIV will have to have their basis in changing sexual norms.
But there is need for a better understanding of these sexual norms, of attitudes and of sexual intentions and expressions.
This point was stressed by UN Women Regional Programme Director, Roberta Clarke as she addressed the opening session of the "Building Responsive Policy: Gender Sexual Culture and HIV and AIDS in the Caribbean Regional Symposium" held recently in Trinidad.
The meeting examined the findings and analyses of the International Development Research Centre (IDRC Canada)-funded research undertaken in Barbados, Suriname and Trinidad and Tobago which was focussed on gaining a deeper understanding of the dynamics between sexual cultures, gender relations, and HIV/AIDS in the Caribbean.
Ms. Clarke continued: "Telling a young man to abstain in a culture that valorises early, frequent and multi-partner sex as essential to the affirming masculine self, seems like a bit of a lost message. Telling a young woman who is in economic need to avoid older men and exploitative relationships may not bear the fruit of self-empowerment needed for self-protection."
 "At UN Women (formerly UNIFEM), we have been working over the last 6 years in several quarters to bring into sharper relief the ways in which gender norms, gendered culture and sexualities, all complicated by socio-economic factors, exacerbate vulnerabilities and may limit the sphere of personal choice to self-protect."
However she noted that it was a clear that we have turned a corner in the Caribbean, moving away from a strictly bio-medical approach to prevention which focuses on individual behaviour, towards a more expansive understanding of how the self is continuously shaped by socialisation and cultural forces.
The research was undertaken by the University of the West Indies HIV/AIDS Response Programme (UWIHARP) at Cave Hill, Barbados, the Centre for Gender & Development Studies – UWI St. Augustine, Trinidad and Foundation Ultimate Purpose Suriname.  The study was premised on awareness that unequal gender relations are central to explaining the transmission of HIV/AIDS in the Caribbean. This is especially important since young Caribbean women are believed to be the most vulnerable group in the spread and transmission of HIV/AIDS.
The outcomes are intended to inform gender-responsive human rights-based policy for HIV/AIDS prevention through multi-sector policy and programme support.Thus the meeting brought together HIV policy makers, HIV education specialists, national women's machineries, civil society organisations and academics concerned with strengthening HIV prevention approaches.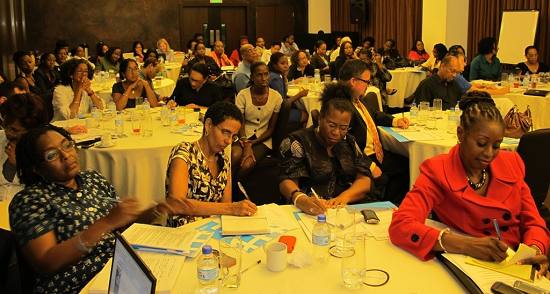 The UN Women RPD also acknowledged the many people and agencies that had contributed to the research:
"It was in the Inter-Agency Working group on Gender and HIV that the beginning elements of this project were developed. At an early stage, thinking about gender mainstreaming, the Barbados National Advisory Commission (NAC) on HIV and AIDS requested a literature review on gender, sexuality and HIV. This was done by Kamala Kempadoo for UNIFEM and IDRC. And out of this, came the thinking for this project.
The principal researchers are persons of many talents. The project has depended on the conceptual work of Professors Kamala Kempadoo, Rhoda Reddock and Christine Barrow. We wish to thank Ultimate Purpose Foundation for its willingness to take on the project in Suriname and to UNICEF for facilitating that.
In some key ways, the backbone of this project has been Monique Springer of UWI HARP in Barbados and Tisha Nickenig of IGDS St. Augustine Campus and Ms. Carla Bakboord of Ultimate Purpose Foundation in Suriname and of course my appreciation to Leah Odle-Benson of UN Women for her intense and careful management of the project.
IDRC has been a major supporter of UNIFEM's intellectual inquiries that ground our actions, whether in HIV or in issues of the administration of justice. Through Francisco Cos-Monteil, I wish to transmit our collective appreciation for this contribution."
Welcome remarks were also delivered by Professor Rhoda Reddock, Deputy Principal, UWI, St. Augustine, and IDRC Senior Programme Specialist, Mr. Francisco Cos-Montiel.
For further information please contact: Leah Odle-Benson, Programme Coordinator at [ Click to reveal ] or Sharon Carter-Burke, Communications Specialist at [ Click to reveal ] at 246-467-6000 Ext 6124.