The United Nations Secretary General's UNiTE to End Violence Against Women Campaign to be launched next month in the Caribbean
Date: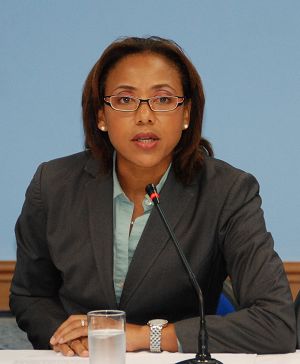 When the
UNiTE to End Violence Against Women Campaign
is launched in October in the Caribbean, one of the intended outcomes is an agreement on the needed actions to strengthen the legal response for the purpose of justice, protection and prevention.
United Nations (UN) Resident Coordinator for Barbados and the Eastern Caribbean, Ms. Michelle Gyles-McDonnough and the United Nations Development Fund for Women (UNIFEM -part of UN Women) Regional Programme Director (RPD) Ms. Roberta Clarke made this point while addressing the media on UN International Day for Peace to outline the conference objectives.
Ms. Gyles-McDonnough explained that the UN Secretary General's UNiTE campaign which was launched in 2008 is a multi-year campaign intended to raise public awareness and to increase political will and resources for preventing and responding to violence against women and girls.
She stressed that the problem of violence against women is a very critical issue for the Caribbean:
"The problem of violence against women which takes many forms - it is sexual, it is physical, it is emotional, and it is economic - really is a scourge that we have to eradicate from our societies. Not only is ensuring women's safety a basic human right, but it is important to the economic and social development of our regions. In our Caribbean and across the world the problem is not confined to any group in society, to any particular region or country, this affects up to 70 per cent of women at least once time in their life."
The Conference which has as its theme: "Strengthening Accountability and Changing Culture to End Violence against Women in the Caribbean" will be held on the 11th -12th October in Barbados. The meeting will be attended by Attorneys General, members of the judiciary, senior representatives of regional police forces as well as stakeholders from civil society organisations.
In addition, the Presidents of the International Tribunals for former Yugoslavia and Rwanda, Judge Patrick Robinson - a Jamaican national- and a native of Saint Kitts and Nevis, Sir Dennis Byron have both signalled their commitment to participate in this conference.
Over the two days of the conference, the participants will examine the current legal framework to identify the gaps that need to be addressed and the aspects of the law that need to be strengthened.
The UNIFEM (part of UN Women) RPD, Ms. Clarke pointed out that all across the Caribbean, significant legal advances have been made, for example, all countries have domestic violence legislation in place. In addition over the last 25 to 30 years particularly women's organisations, had been working in this area through the setting up of crisis centers and shelters and Governments have started the process of legal reform and legal changes to ensure the better protection and prevention of violence against women.
However she noted that there were gaps in the sexual offences laws and very few countries have legislative schemes directly addressing sexual harassment. A further concern is the need to support the implementatoin of the laws.
"We know that there are many reasons for the existing limitations, including under-reporting as many women and girls are reluctant to report incidents of violence against them perhaps because they feel a deep sense of shame, perhaps because they anticipate a less than full response from the State and also they are reluctant to be discriminated against and stigmatized. So we know that there is under-reporting and therefore under policing and under prosecution of all forms of violence against women".
The UN system is very committed to supporting all initiatives to address and end violence against women in the Caribbean.
The Secretary General's campaign is focused on five key outcomes:  the adoption and enforcement of national laws to address and punish all forms of violence against women and girls; the adoption and implementation of multi-sectoral national action plans; strengthened data collection on the prevalence of violence against women and girls; increased public awareness and social mobilisation and addressing sexual violence in conflict.
For further information please contact: UNIFEM (part of UN Women) EVAW Specialist Tonni-Ann Brodber, [ Click to reveal ] , 1-246-467-6000 or Communications Specialist - Sharon Carter-Burke, [ Click to reveal ]