Indigenous Women from Belize Dominica Guyana and Suriname challenge exclusion and discrimination
Date: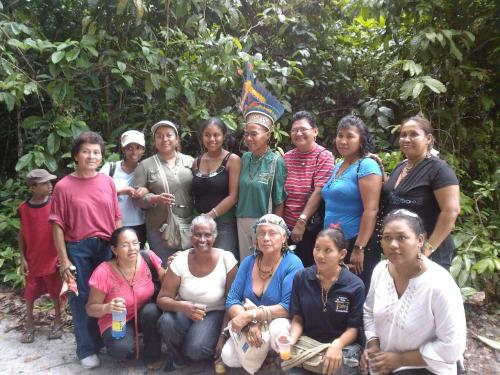 Over 100 persons attended the opening of the UNIFEM/Ministry of Amerindian Affairs, Guyana on 'Caribbean Indigenous Women: Voice, Participation and Influence for Sustainable Development' on 9 October 2008 in Georgetown, Guyana.
This meeting, the first of its kind in the Caribbean, brought together indigenous and tribal women from Belize, Dominica, Guyana and Suriname.
Delivering one of the opening addresses, Monica Aleman of the International Indigenous Women's Forum challenged the dominant approaches to gender equality that fail to address the multiple disadvantages of indigenous women. She, like Minister Pauline Sukhai (Minister of Amerindian Affairs, Guyana) pointed to the need to work closely with men, reminding that indigenous cultures rely on gender complementarity- a symbiosis which values both women's and men's roles, a complementarity that ensures mutual respect and harmony.
Roberta Clarke, Regional Programme Director, UNIFEM, referred to the common themes from the four baseline studies conducted on the four countries represented at the meeting: the challenge of access to culturally relevant and responsive educational opportunities; the need for clarity on land rights given the centrality of land to the culture,identity and economy of indigenous peoples as well as the need to challenge traditional and harmful gender stereotypes that impede women's full enjoyment of human rights.
Speaking to the issue of leadership, Senator Pulcheria Teul of Belize urged the development of capacity building programmes to encourage indigenous women's political participation.
The Opening was chaired by Gail Texiera, Adviser to the President of Guyana and welcome remarks were given by Dr. Edward Greene, Assistant Secretary General, CARICOM Secretariat and Johannes Wedenig, UNICEF representative.
Click here to download - Opening Remarks- Caribbean Indigenous Women's Conference- Roberta Clarke, UNIFEM Caribbean Office