WEPs in Action – Case Study: JMMB Group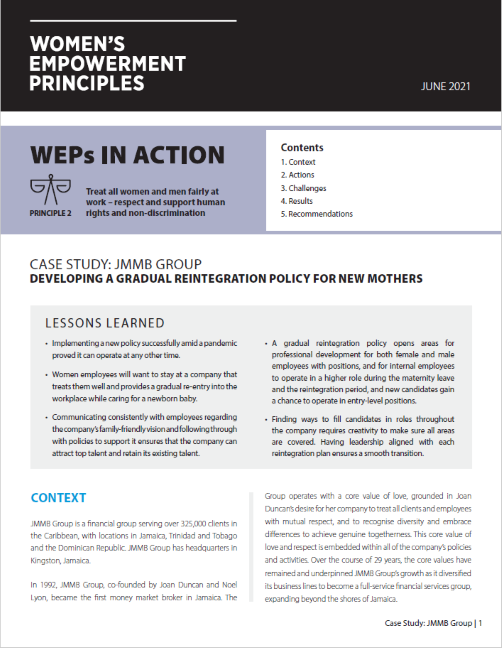 JMMB Group is a financial group serving over 325,000 clients in the Caribbean, with locations in Jamaica, Trinidad and Tobago and the Dominican Republic. In this case study, we explore how this group of companies used principle 2 of the Women's Empowerment Principles to support the health and well-being of all employees and facilitate a family-first culture. The key points of the case study are:
Implementing a new policy successfully amid a pandemic proved it can operate at any other time.
Women employees will want to stay at a company that treats them well and provides a gradual re-entry into the workplace while caring for a newborn baby.
Communicating consistently with employees regarding the company's family-friendly vision and following through with policies to support it ensures that the company can attract top talent and retain its existing talent.
A gradual reintegration policy opens areas for professional development for both female and male employees with positions, and for internal employees to operate in a higher role during the maternity leave and the reintegration period, and new candidates gain a chance to operate in entry-level positions.
Finding ways to fill candidates in roles throughout the company requires creativity to make sure all areas are covered. Having leadership aligned with each reintegration plan ensures a smooth transition.
Read more on this case study to learn how this financial group, originally founded in Jamaica, developed a gradual reintegration policy for employees who were new mothers.
View online/download
Bibliographic information