Private Sector benefits from EU-UN Spotlight Initiative Workshop to end Violence against women in workplaces and communities
Date: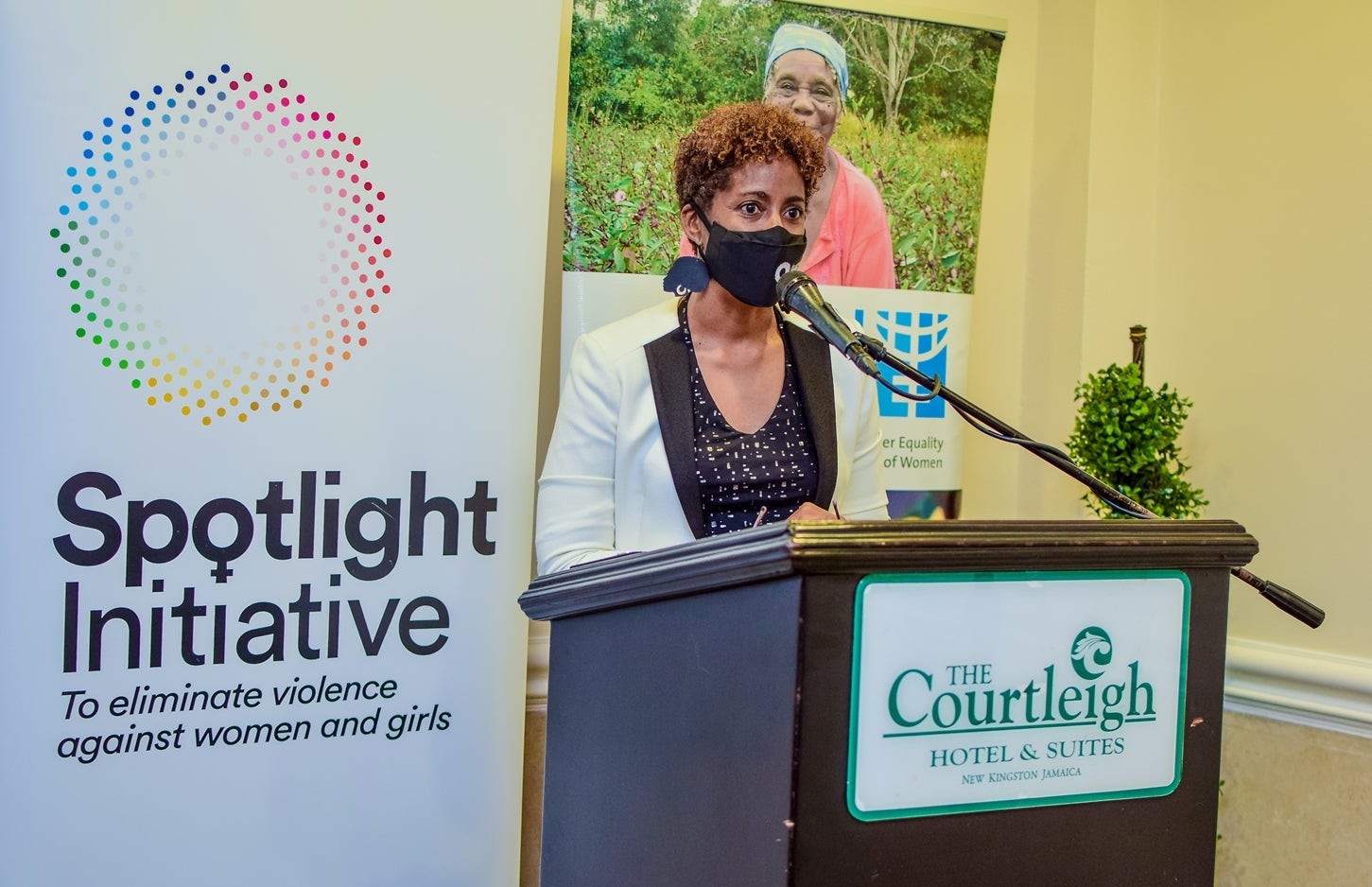 UN Women Consultant, Imani Duncan-Price guided attendees throughout the workshop and encouraged all private sector companies to become Women Empowerment Principles (WEPs) signatories – UN Women Photo/Jodian Anderson
May 23, 2022, Kingston, Jamaica -  "Gender-based violence is a developmental issue, it is a human rights issue, it is a dignity issue… It demands a response which is collaborative and sustainable and which includes all of society, especially those most influential, like the private sector, so that we can improve the systems and frameworks that encourage and support gender equality and the empowerment of all women and girls."
These were some of the remarks made by UN Women Multi-Country Office – Caribbean Representative, Tonni Ann Brodber at a recent workshop, organized by UN Women for over 30 organisations in the business community, as she underscored the indispensable role of the private sector in eliminating violence against women in all their diversity.
The Promoting Freedom from Violence in our Workplaces and Communities workshop, held on May 18, 2022, was hosted by Caribbean Women in Leadership (CIWiL), a regional NGO and implementing partner of UN Women under the Spotlight Initiative.  The workshop was designed to grow companies' understanding and practical abilities on how to develop and implement gender-based violence (GBV) policies, including Domestic Violence (DV) and Sexual Harassment policies in the workplace, enhance awareness of GBV support services and increase commitments and initiatives to engaging in multistakeholder collaboration.
The activity was conducted within the framework of Pillar 3 of the ongoing EU funded-Spotlight Initiative Project in Jamaica, which focuses on gender inequitable social norms, attitudes and behaviours change at community and individual levels to prevent violence against women and girls and harmful practices.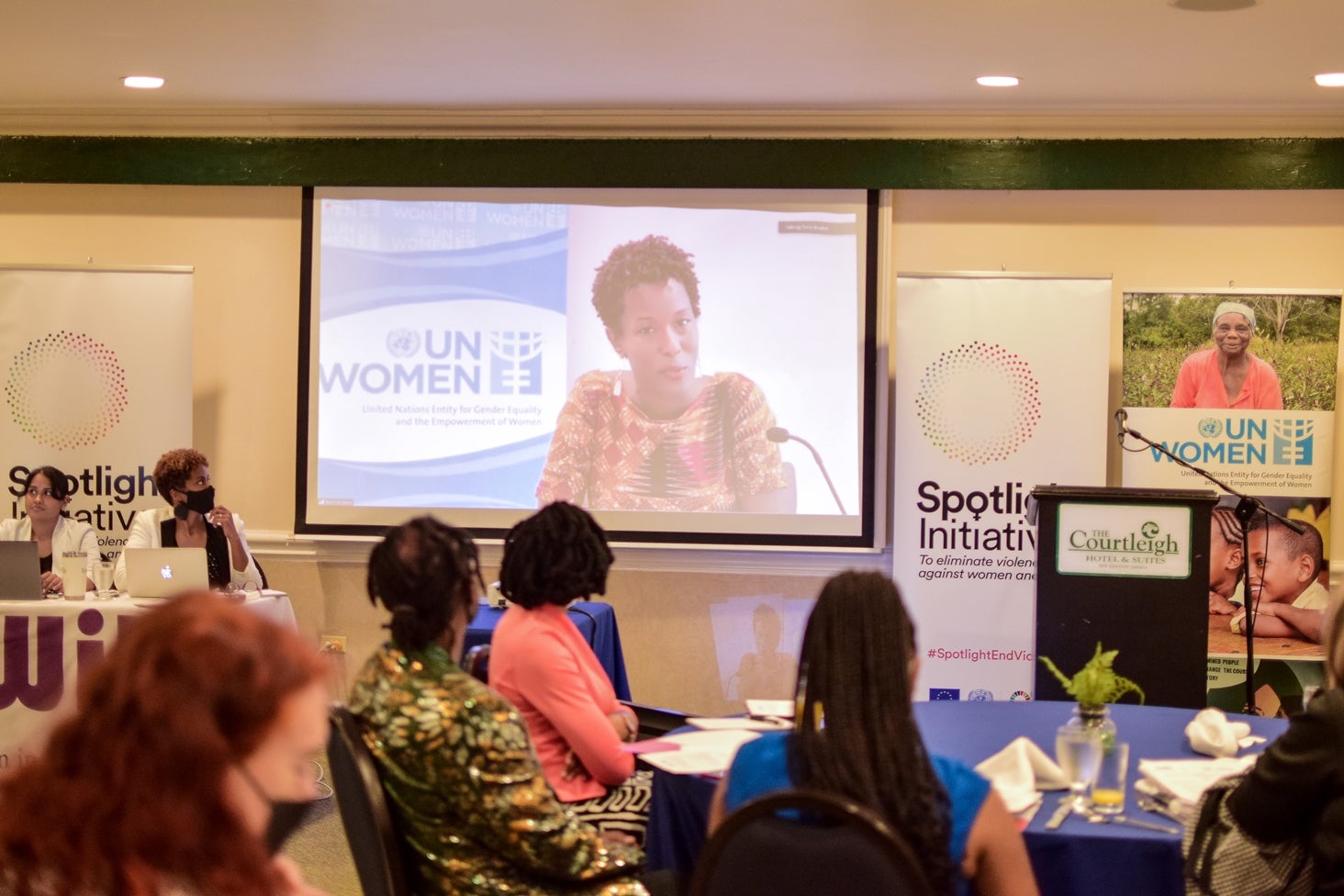 Tonni Ann Brodber, Representative, UN Women Multi Country Office – Caribbean delivered remarks to the attendees remotely – UN Women Photo/Jodian Anderson
Ms Brodber added that companies can commit to taking specific actions to address GBV, including ensuring access to quality support services for employees who are GBV victims/survivors, policies for sexual harassment prevention in the workplace, as well as gender responsive policies in the workplace which create an environment that is incompatible with gender-based violence.
In delivering remarks on behalf of Her Excellency Marianne Van Steen, EU Ambassador to Jamaica, the Chargé d'Affaires of the EU delegation to Jamaica, Aniceto Rodriguez Ruiz also highlighted the importance of the private sector in advancing national efforts to end violence against women.
Addressing private sector leaders in the room, Mr Rodriguez Ruiz said:  "As leaders and champions for change, I therefore encourage you to demonstrate corporate responsibility by implementing policies and programmes that balance the scales, challenge negative social norms and build responsible work communities in support of tolerance and equal opportunities for all. Victims and perpetrators of family violence have to navigate the workspace each day – every day. So, the values we promulgate should communicate that violence, like any other financial risk, is disastrous for the bottom line."
This point was echoed by Ms. Brodber, who stressed that "the private sector sets the tone of what we think is normal in our space. The private sector is a critical player in the creation of our social norms, behaviours and attitudes."
While this was the first major training for the private sector in Jamaica under the Spotlight Initiative, it was also a continuation of previous work started in 2018 under the Win-Win: Gender Equality Means Good Business programme - a partnership with UN Women, the EU and International Labour Organization (ILO) - that strengthened women's leadership and economic empowerment in the private sector.
Facilitated by UN Women Consultant, Imani Duncan-Price, the workshop utilised the framework of Women's Empowerment Principles (WEPs) which are a set of seven (7) principles offering guidance to businesses on how to promote gender equality and women's empowerment in the workplace, marketplace and community. The workshop focused on Principles Three, Four and Six which addressed: Employee health, wellbeing and safety; Education and training for career advancement and Community initiatives and advocacy respectively. Participating companies were encouraged to become WEPs signatories to champion the principles of gender equality.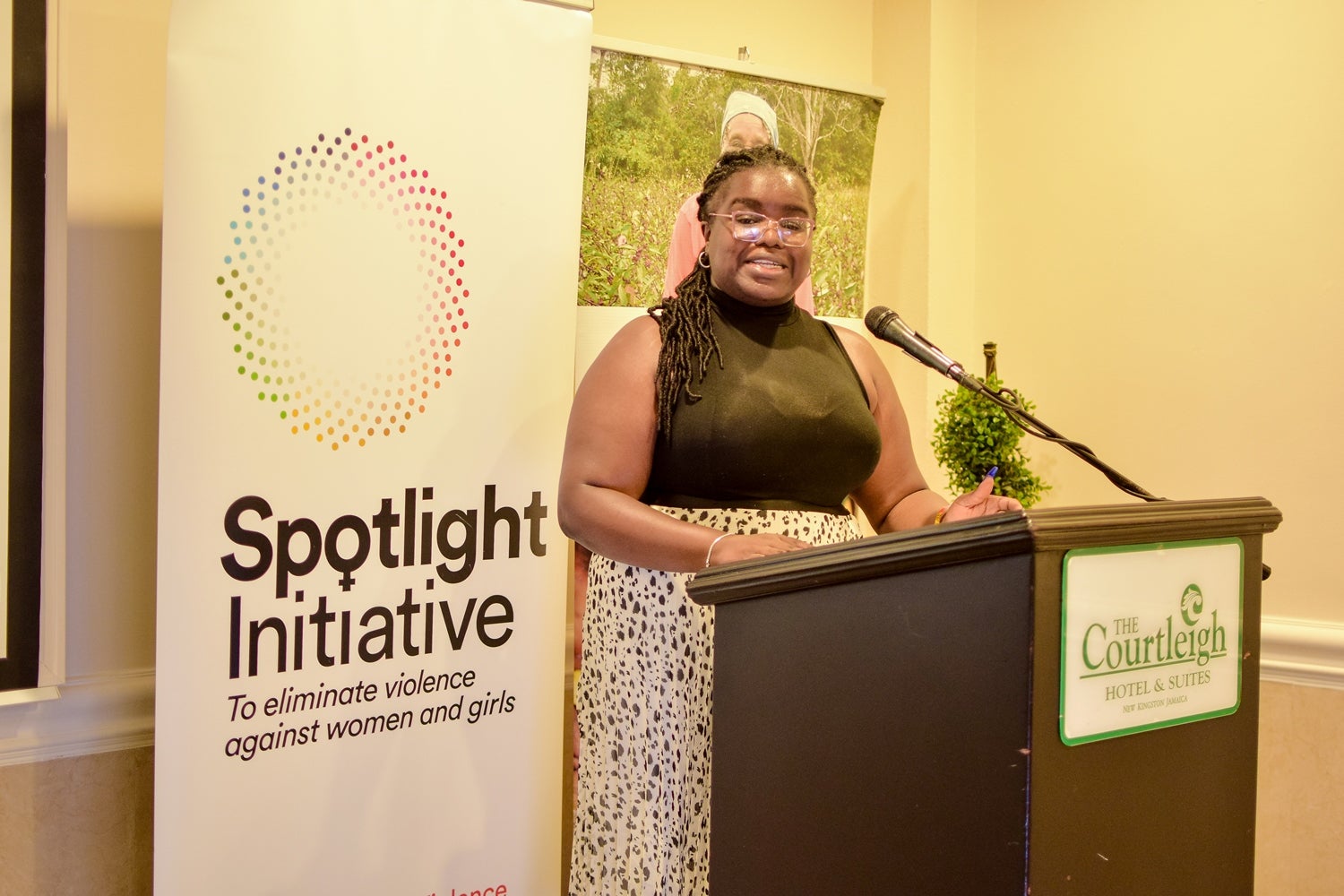 Dr. Tamika Peart, Director of the National Shelter Programme, Bureau of Gender Affairs commended the private sector for demonstrating an interest in championing the work of ending violence against women in the workplace and community – UN Women Photo/Jodian Anderson
Dr Tamika Peart, Director of the National Shelter Programme, Bureau of Gender Affairs (BGA) under the Ministry of Gender, Culture, Entertainment and Sports (MCGES) underscored the crucial role that businesses and markets play in creating safer spaces for women and girls, including some of the ways in which the BGA has been actively engaging the private sector, namely producing technical papers on the value of inclusivity in the workplace and providing sensitisation sessions for businesses on the sexual harassment legislation.  Dr Peart also announced that the Government of Jamaica (GOJ)recently approved the recruitment of resources to oversee the investigative arm of the Sexual Harassment (Protection and Prevention) Act, 2021.
Dr Peart stated: "The (Sexual Harassment) Act makes further provisions for complaints to be referred to a Sexual Harassment Tribunal. It is my pleasure to inform you today that in this Financial Year, the Government of Jamaica has approved the recruitment of one Senior Sexual Harassment Investigative Officer and three Sexual Harassment Investigative Officers. The Officers will be housed under the newly created Sexual Harassment Tribunal at the Bureau of Gender Affairs."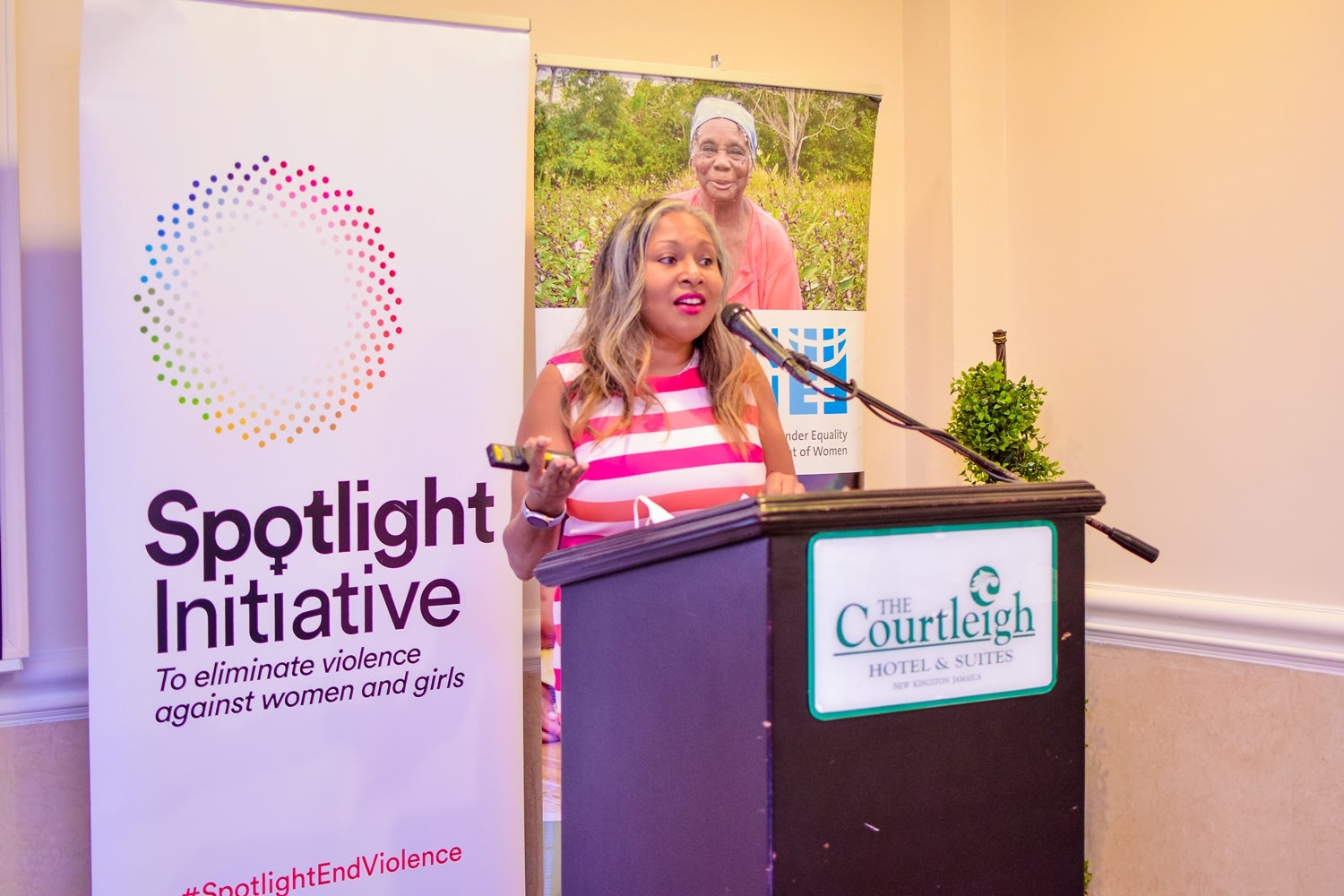 Phadra Saunders, Director, People Business Partner, FLOW Jamaica (a WEPs signatory) shared the experiences and Lessons Learnt in the Implementation of GBV/ Sexual Harassment Policies in the Workplace which included harrowing stories of two FLOW employees who were murdered by former partners which set the context for the importance of a GBV policy in the workplace – UN Women Photo/Jodian Anderson
The workshop featured several panels with speakers from local private sector companies such as FLOW Jamaica, Nestle Jamaica, Facey Law, Law Offices of Bishop Law & Associates, Internet Income Jamaica/POW Social, Sagicor Group, which shared their experiences implementing their own sexual harassment and DV policies, explored the nuances of the sexual harassment act, identified policies that were more relevant to SMEs and Online Business and also presented case studies of employee programmes that addressed gender- based violence.
The workshop also featured presentations from stakeholders that provided essential support services, including Deputy Supt. Jacqueline Dillon, Coordinator for the Jamaica Constabulary Force's (JCF) Domestic Violence Intervention Centre (DVIC), who informed participants of the ongoing national efforts through the JCF to build capacity across communities around DV response and prevention. Other speakers were Co-Founder and Director of Programmes at Eve for Life, Joy Crawford, and Toni-Ann Hudson of Young Women and Men of Purpose (YWOP/YMOP) who introduced some of the work civil society organisations (CSOs) were doing to support women and other vulnerable groups against gender-based violence and reiterated the call for partnerships between private sector and CSOs to end GBV in Jamaica.
The Jamaica Spotlight Programme uses a life cycle approach to counteract the normalization VAWG and seeks to advance the Sustainable Development Goals, including Goal 5 (Gender equality). Jamaica is one of five CARICOM Member States (the others being Belize, Grenada, Guyana, and Trinidad & Tobago) receiving direct support from the EU-UN Global Spotlight Initiative to eliminate all forms of violence against women and girls (VAWG).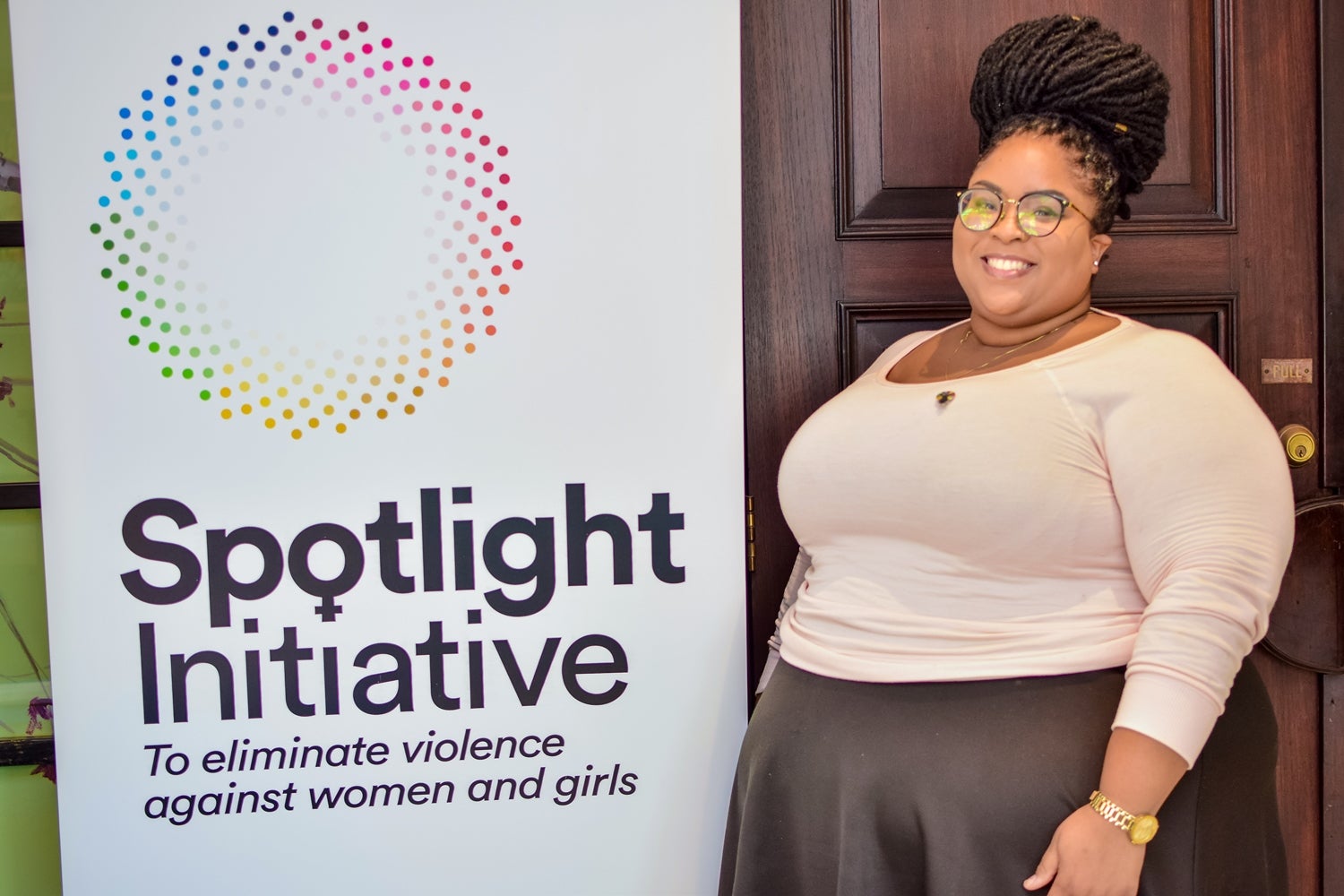 UN Women's Planning and Coordination Specialist, Monique Long oversaw the workshop - UN Women Photo/Jodian Anderson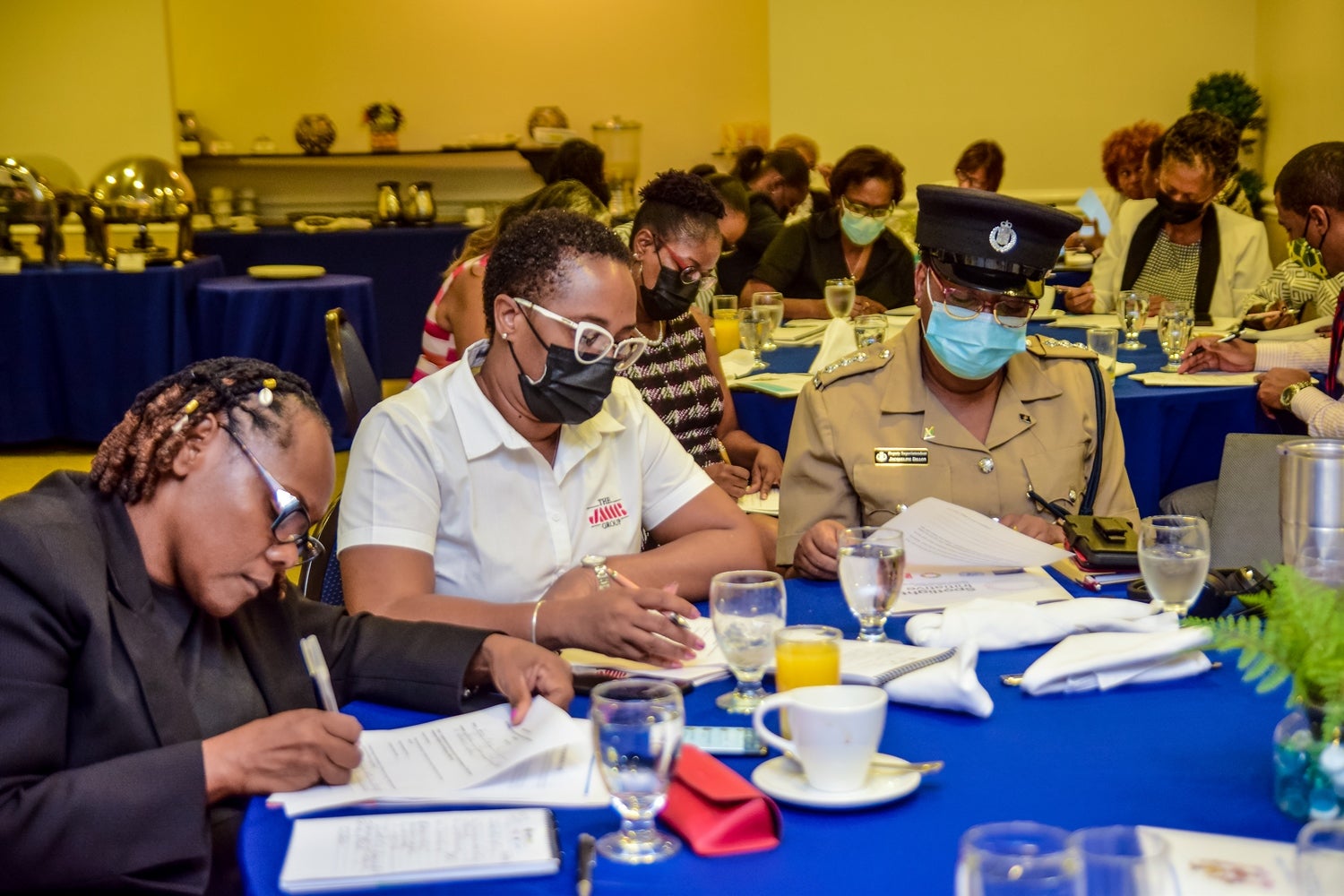 Presenters and attendees alike were seen eagerly participating in the workshop. Seen here: Ann-Marie Bishop, Principal Director, Law Offices of Bishop Law & Associates (Left) and Deputy Supt Jacqueline Dillon, Coordinator for the Jamaica Constabulary Force Domestic Violence Intervention Centres (right) - UN Women Photo/Jodian Anderson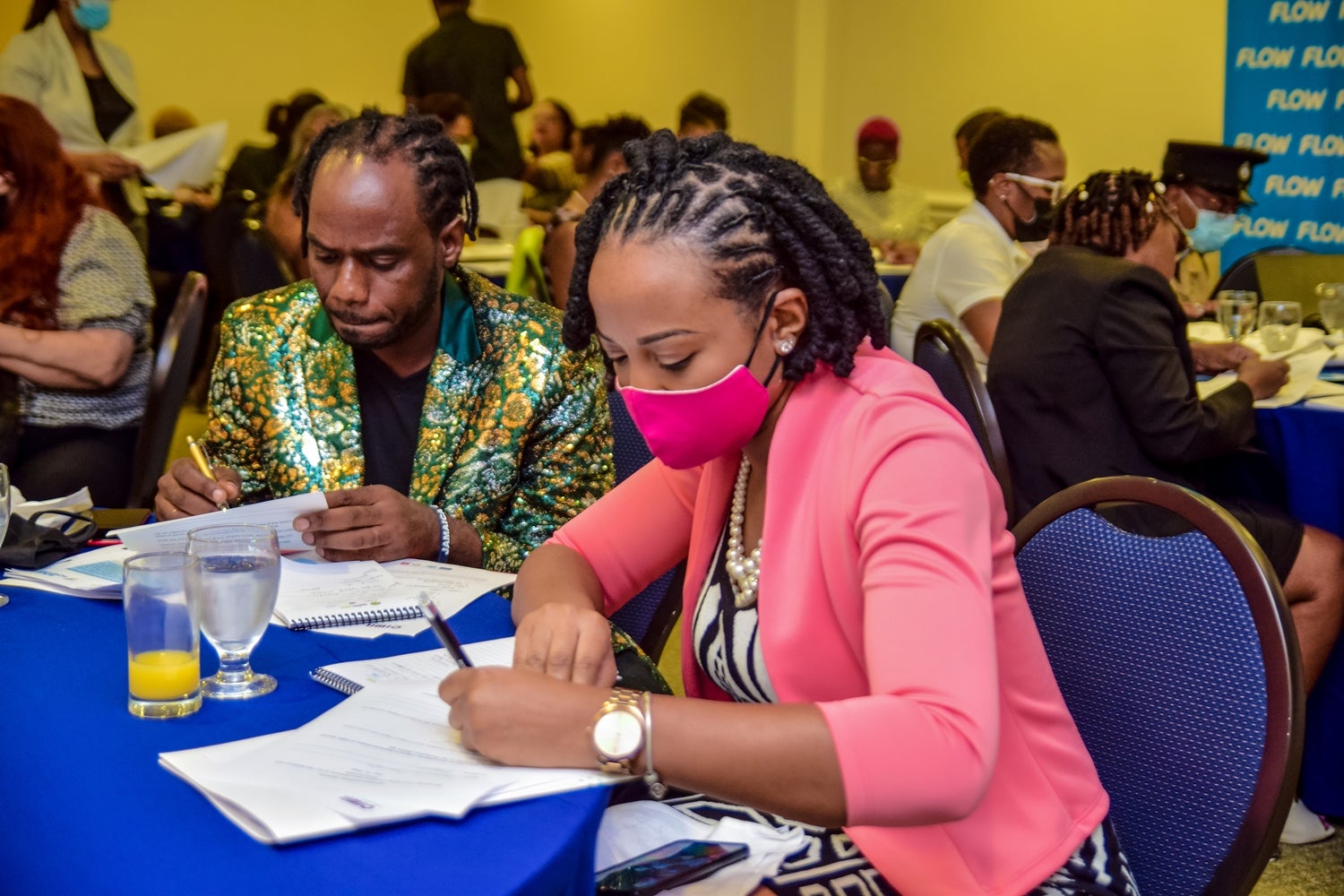 Participants were provided with templates and worksheets to better understand the legislation that addressed GBV and guidelines for developing policies to protect employees from sexual harassment. (left) Dwight Wilson, Trainer, Internet Income Jamaica (WEPs Signatory) and (right) Johanna Samuels, Assistant Manager of Learning & Development at Sagicor Group Jamaica (WEPs Signatory) - UN Women Photo/Jodian Anderson
Dr. Nadeen Spence, Regional Board Member, CIWiL - UN Women Photo/Jodian Anderson