Climate Change and Disaster Risk Resilience: Gender Matters!
Date: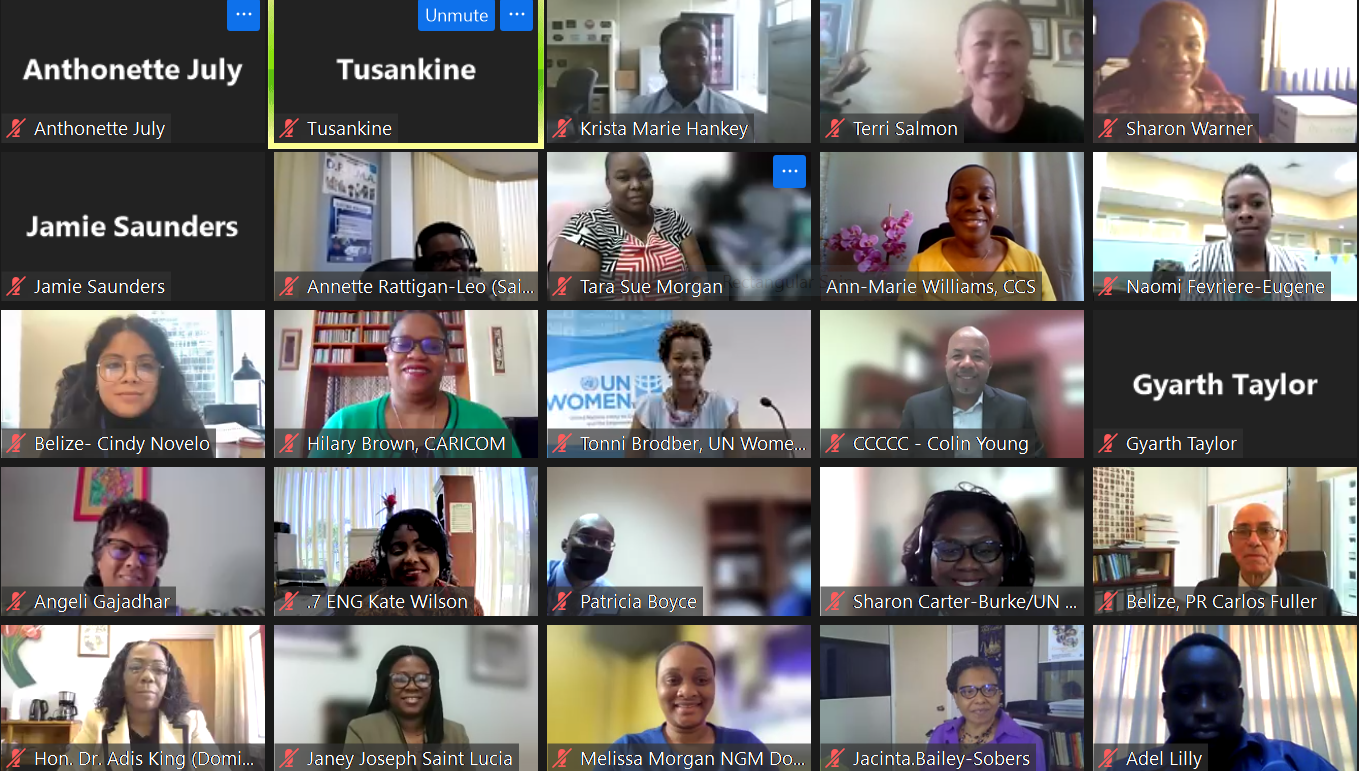 Data from the Caribbean and globally demonstrates women are more at risk of the impacts of climate change than men. This is not because women are naturally more susceptible to natural hazards, resulting disasters or health crises. Instead, it is the structural (ongoing) barriers to equality based on harmful gender stereotypes and inequality of power in decision making, that increases women's vulnerability and reduces their opportunities and access to build resiliency.
UN Women and the CARICOM Secretariat recently hosted preparatory meetings with CARICOM Ministers responsible for Gender Affairs and environment-related portfolios, officers of the CARICOM Permanent Missions to the United Nations, National Gender Machinery, and Civil Society Organisations ahead of the Global Commission on the Status of Women Meeting which runs 14-25 March 2022.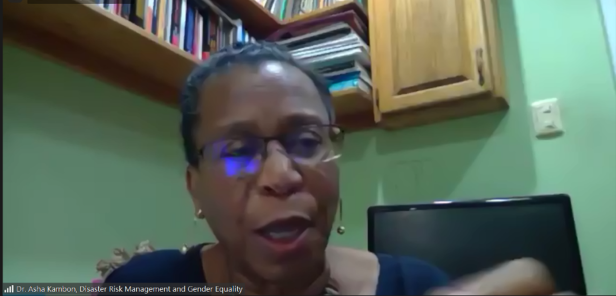 Regional Disaster Risk Management and Gender Equality Expert, Dr. Asha Kambon, delivered a feature presentation on what was need ed "to achieve gender equality and the empowerment of all women and girls in the context of climate change, environmental and disaster risk reduction policies and programmes in Caribbean SIDS". Dr. Kambon highlighted: "We need to have more women trained in all aspects of Climate Change adaptation and mitigation and Disaster Risk Resilience. Building resilience means more women are trained in how to 'bounce forward', they have to be at the table when recovery is being discussed.
Dr. Kambon explained that income inequality is what is mainly being talked out when discussing inequality in the region, an issue that changes outcomes and opportunities for men and women. "From data arising out of the COVID -19 pandemic, it is clear that women who are not earning their own incomes are unable to manage their lives during the crisis and this increases their vulnerability. When looking at (designing) policies, we have to take this into consideration and have the data to support our arguments," Dr. Kambon explained.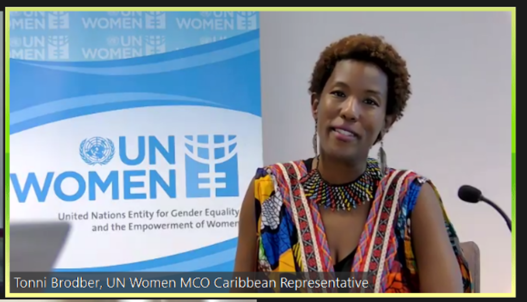 Representative UN Women Multi-Country Office – Caribbean, Tonni Brodber noted that CARICOM member and associate member states as small island developing states have a unique understanding of the impacts of climate change and disasters. Ms. Brodber added: "Member states deeply understand through a lived experience, Saint Vincent and the Grenadines most recently, the ways in which the impacts of Climate Change and disasters exploit vulnerabilities."
Read Tonni Brodber's remarks here.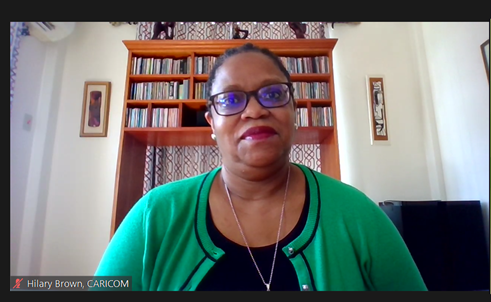 Programme Manager, Culture and Community Development, CARICOM Secretariat Dr. Hilary Brown said climate change is one of the most complex challenges of our time- requiring a concerted, proactive and holistic response.
Dr. Brown added: "The more women and men participate on an equal basis in managing natural resources, in designing and implementing early warning systems, ensuring appropriate infrastructure for shelters and relief distribution during disasters and in the design of recovery plans, the more resilient our societies are likely to become."
Read Dr. Brown's full remarks here.

The meetings held over two days, included technical presentations on "Framing the CSW Negotiation" from Rahel Steinbach, Disaster Risk Reduction and Resilience Programme Specialist – UN Women; Carla Kraft, Policy Specialist - Sustainable Development – UN Women and Branwen Millar, Gender Advisor - UNDRR.
Day one concluded with a panel discussion on "Strategies to enhance adaptive capacity for inclusive, gender responsive Disaster Risk Management in Caribbean SIDS".

Moderator: Ms. Isiuwa Iyahen- UN Women MCO Caribbean Programme Specialist-Economic Empowerment & Statistics
Panel:
The Honourable Carolyn Trench-Sandiford, President of the Senate of Belize and Member of the ParlAmericas Board of Directors
Ms. Elizabeth Riley, Executive Director, Caribbean Disaster Emergency Management Agency
Ms. Joanna Edghill, Co-Founder and Director - Megapower Limited
Ms. Sarah Bailey, Head of Programme, UN World Food Programme Caribbean Multi-Country Office

The Second day's session which focused on negotiating the CARICOM Statement, also included a feature presentation by Dr. Colin Young- Executive Director, Caribbean Community Climate Change Centre (CCCCC) on "Climate Financing and Gender Equality: Inclusive Approaches to Climate and Disaster Resilience".
Read Dr. Colin Young's full remarks here.