Universal Basic Income as a means of Gender-Responsive Social Protection
Weighing the Pros and Cons of UBI for Governments in the Caribbean and development organisations
Date: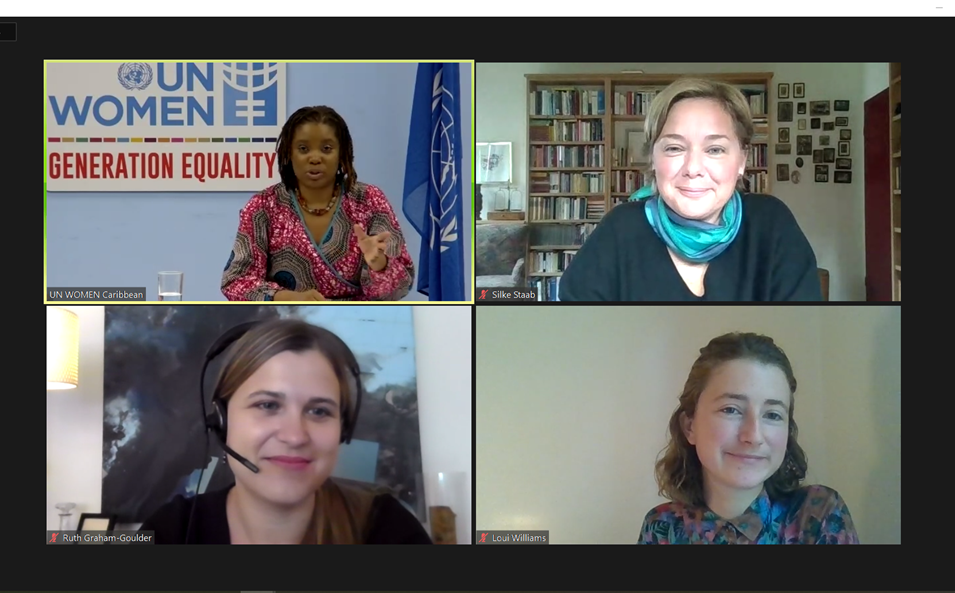 In the Eastern Caribbean women are more likely to live in poverty than men. One impact of the COVID-19 pandemic is that women are dropping out of the labour force at higher rates than men. Without recovery measures that specifically target women and men's different but equally important needs, women are having a harder time to re-enter the labour market.
The Joint Programme on Universal Adaptive Social Protection in the Eastern Caribbean is providing support to Governments to strengthen their capacities to among other things, narrow gender gaps in poverty rates, enhance women's income security, and boost female-headed households resilience to climate-related shocks. A response measure which has come up for review is Universal Basic Income (UBI), which may have both pros and cons if implemented as a gender-responsive social protection initiative.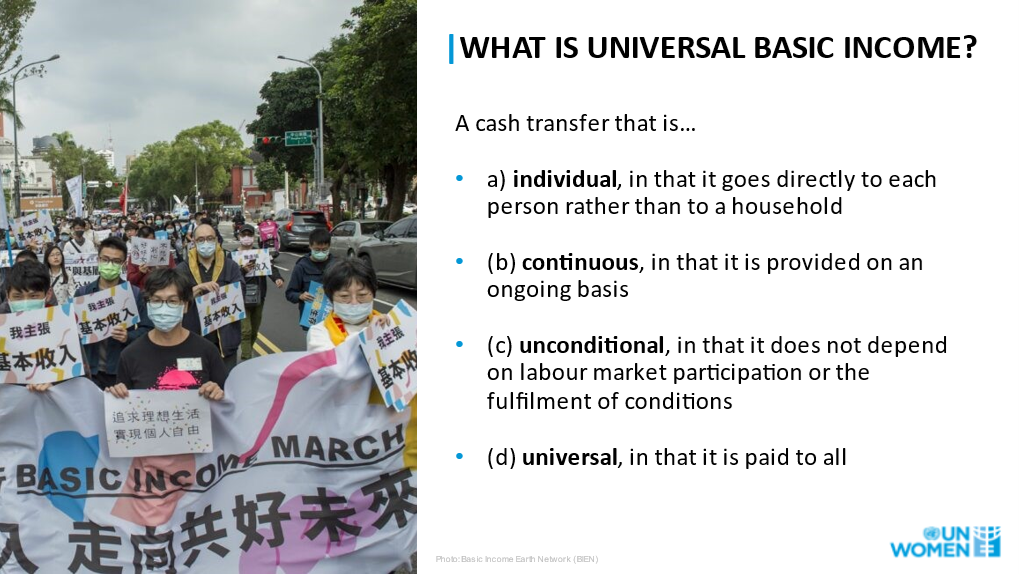 With increasing labour market uncertainty, rising poverty and inequality, all of which have been exacerbated by the COVID-19 shock to economies, the idea of a UBI that is accessible by all has been gaining traction.
According to a UN Women policy brief 1, some feminists argue that an unconditional income independent of paid work would enhance women's economic empowerment and self-reliance in families, households, the workplace and the community, with particular benefit for those facing multiple and intersecting forms of discrimination; for e.g., a guaranteed basic income could help women to leave violent relationships rather than remaining due to economic dependency upon perpetrators.
Some other potential benefits as discussed by Ms. Loui Williams, Research Assistant - Research and Data Section, UN Women Headquarters were that the UBI is:
(i) non-contributory, meaning eligibility and benefit levels do not depend upon prior contributions. UBI is therefore different to (contributory) social insurance systems, which are based on people being employed in the formal economy across their lifetimes.

(ii) can benefit those transgender and gender-diverse people who face employment discrimination which makes it especially difficult for them to access safe and secure employment.

(iii) can reduce stigma associated with receiving income support and avoid 'unemployment traps' experienced by welfare recipients, especially single mothers and people with disabilities who risk losing benefits if they work more.

(iv) Can be a safety net to leave exploitative employment. It is easier to exit work that is unsafe and know that this will not impact income security.

(v) Can reshape gender norms around unpaid care work vs paid employment. The 'male breadwinner' model that assumes men can provide a family income has never worked and relies upon women performing the majority of unpaid care work. But, if everyone receive income regardless of employment status, this may reshuffle expectations and norms at a family/community level
LIMITATIONS OR CHALLENGES
Some caution however that if a UBI is considered only as a minimal safety net, it could be used to justify the roll back of state responsibility and funding of social security systems that provide comparatively higher levels of protection including care services, housing, education and health care.
Other limitations of introducing a UBI that were considered were:
(i) In a climate of fiscal tightening and austerity, is there the fiscal space in the Caribbean to implement a UBI?
(ii) A flat rate UBI still may not fully meet the needs of specific groups, e.g.; single parents and people living with disabilities as there are higher costs for care needs or not having shared household income, and therefore may require paid work to complement.
(iii) There cannot be a one-sized approach as some territories already have social welfare polices – universal access to education; subsidised childcare services; school meals programmes.
(iv) UBI may be treated as a "housewives wage", encouraging women to remain at home and continue doing unpaid care work while male breadwinners bring in additional income.
(v) A UBI would not reduce poverty and inequality if paid only at a low level
(vi) A UBI does not ensure decent work and may be used as excuse by employers to not pay living wage or provide benefits, which may lead to higher rates of informal work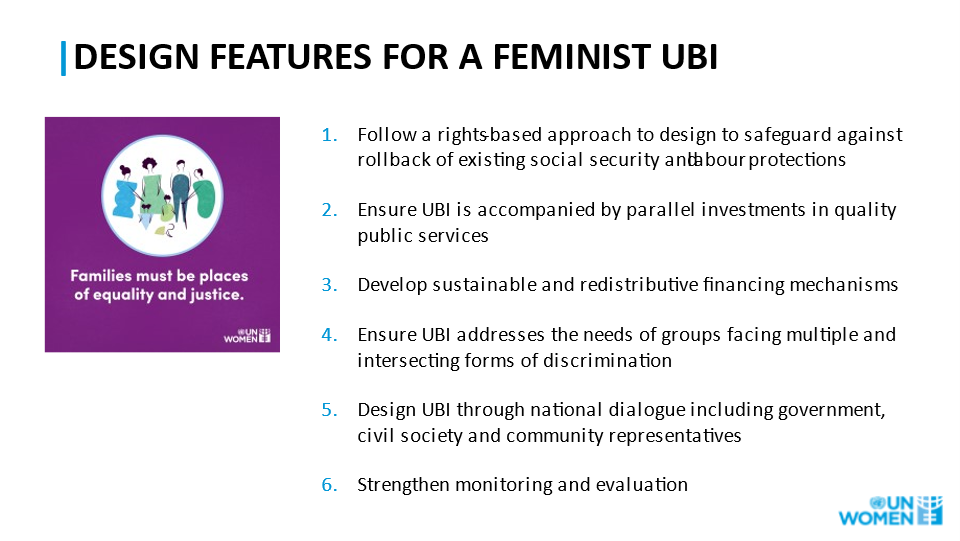 To further your knowledge and deepen the discussion, please click here (Knowledge Products on UBI) for more resources.