Collecting Administrative Data on Violence Against Women and Girls
Date: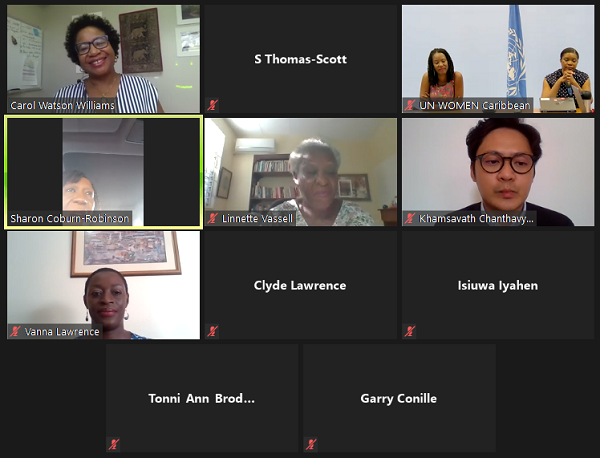 More than twenty (20) Civil Society Organizations (CSOs) benefitted from a workshop with local and international experts on the importance of collecting administrative data to tackle Violence Against Women And Girls (VAWG) and building back a more equal Jamaica in the wake of COVID-19.
Organized jointly by the Spotlight Initiative Taskforce - United Nations System in Jamaica and the European Union - in collaboration with data consultants reThink Social Development Limited (reThink), the seminar entitled "Collecting Administrative Data on Violence Against Women And Girls" was held on December 16, 2020 and focused on the [1] need for coherence in data collection, production, data sharing and analysis, generally and with respect to data on VAWG.
UN Resident Coordinator for Jamaica, Garry Conille told the participants that tracking and monitoring family violence, including violence against women and girls, requires robust data. He added: "Gender-based violence (GBV) and domestic violence is pervasive and represent the most important hurdle to reaching gender equality in Jamaica. More than one in every 4 Jamaican women (27.8%) between the ages of 16 to 64, will, over their lifetime experience physical and or sexual violence."
In delivering opening remarks on behalf of Ambassador Van Steen, Ms Vanna Lawrence, Programme Manager in the Delegation of the European Union to Jamaica, said that the EU remained firm in their commitment to mainstreaming gender equality- this was evidenced by the publication of their Gender Action Plan (GAP III) for the years 2021-2025.
She stated: "The engagement of CSOs, particularly youth associations and women's rights organizations, is vital to both complement and backstop any gaps in institutional services, and to further strengthen referral systems and linkages between community and institutional services across sectors. CSOs need to help in developing a national data system for Jamaica which can allow the collection, registry, processing and analysis, update, and management of cases with a capacity to track incident histories and review capacity."
Echoing the 16 Days theme "fund, respond, prevent, collect", UN Women MCO Caribbean Representative Tonni Brodber stressed: "The response, prevention and collection of data would not be effective or possible without civil society. Even when funding is not accessible, civil society makes it happen. CSOs will be engaged as both users and producers of VAWG data and as part of the National Statistical System, in strategic dialogues on the development of standards, protocols, methods, approaches and ethical guidelines on the collection of VAWG prevalence and administrative data."

Jamaica is one of only 5 CARICOM countries that has data to measure progress on SDG Target 5.2 (Eliminate all forms of violence against all women and girls in the public and private spheres, including trafficking for sexual and other types of exploitation).
Mr. Khamsavath Chanthavysouk, Programme Specialist for VAW Research and Data at UN Women Headquarters in explaining the sources of administrative data - such as service records (reports) captured by the police, health, and social services -noted that it cannot represent VAWG prevalence which is always underreported. Administrative VAW data tells how and what victim support services are being used. He further emphasised that both administrative data and prevalence data (captured by national surveys) are needed to holistically understand VAWG and to address it as a national issue.
Jamaica is one of five CARICOM Member States (the others being Belize, Grenada, Guyana, and Trinidad & Tobago) receiving support from the Global Spotlight Initiative to advance the rights of women and girls to live free from violence are protected, promoted, and upheld. Under pillar 5 – Data Availability and Utilisation – local CSOs will receive capacity building to analyse and disseminate prevalence and administrative data; and contribute to the overall improvement of VAWG data as part of the National Statistical System.
#SpotlightEndViolence
[1] Sourced from the 'Jamaica Spotlight Country Programme', October 2019