Preventing GBV - Let's talk Man to Man - Barbershop Series
Date:
As they get haircuts or shaves, men and boys across Trinidad and Tobago are being engaged in a barbershop community series to prevent and reduce incidences of domestic violence, including sensitisation on the UN Women HeForShe Campaign.
The "Let's Talk Man to Man" discussions are held in a barbershop setting where the men have the space through facilitated dramatisation and discussion to explore the harms of GBV and how to prevent these violent acts.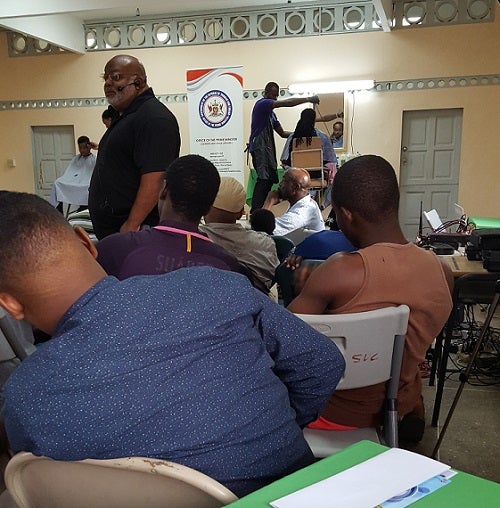 The initiative is in response to a significant number of deaths due to domestic violence – 14 cases already in 2018 (four in one home - in one community). The Trinidad and Tobago Office of the Prime Minister Gender Affairs Division and the Network of Rural Women Producers Trinidad and Tobago have partnered to host the outreach events. NRWPTT President Gia Gaspard-Taylor, UN Women HeForShe advocate, noted that "Violence Against Women and Girls is a human rights violation of pandemic proportions sweeping the world in the homes, streets and the workplace".
The recently-released Trinidad and Tobago National Women's Health survey revealed that 1 in 3 women have or will experience some form of physical or sexual violence at the hands of their partner, in their lifetime. The survey also showed that there is a significant link between a male partner's controlling behaviours and women experiencing emotional, physical and sexual intimate partner violence. Read more.
Six workshops have been held thus far in the East, South and North of the island and requests for more continue to come in.
HeForShe aims to enable men to identify with the issues of gender equality and to recognise the crucial role that they can play to end the global persisting inequality faced by women and girls, both in their own lives, and at more structural levels in their communities. Under the MCO programming, HeForShe is men and boys committed to working with women and girls to end gender-based discrimination including its most extreme form, violence against women.