Enhancing Social Assistance for all Recipients
Date: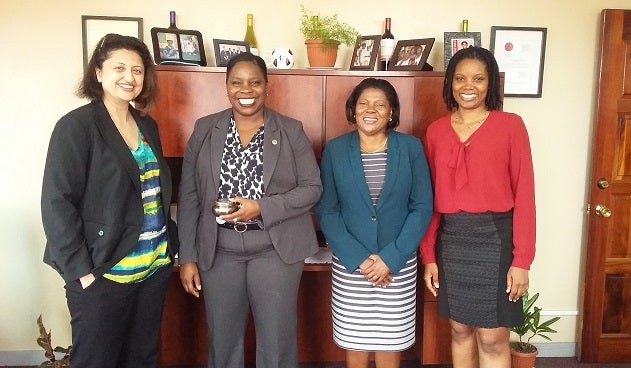 Antigua and Barbuda: UN Women MCO-Caribbean is supporting the Ministry of Social Transformation and Human Resource Development in Antigua and Barbuda, with the development of a database of beneficiaries for the country's main cash transfer programme for households living in poverty - the "Board of Guardians" programme.
This database will support more effective monitoring of the delivery of social assistance to low-income households, the majority of which are headed by women. From 19 to 23 September, UN Women Programme Specialist, Isiuwa Iyahen, and Consultant Social Development and Database Expert, Muqaddisa Mehreen, are in Antigua and Barbuda meeting with stakeholders to initiate the design and development of the database.
Please see more on UN Women Social Protection work and Beneficiary Database Development at:
Conditional Cash Transfers: Learning From The Literature (Full Paper) - See more at: http://caribbean.unwomen.org/en/materials/publications/2016/06/conditional-cash-transfers-learning-from-the-literature-final-report#sthash.r4PDjwI7.dpuf
Conditional Cash Transfers: Learning From The Literature: A Policy Brief - See more at: http://caribbean.unwomen.org/en/materials/publications/2016/06/conditional-cash-transfers-learning-from-the-literature#sthash.jM3fwFFg.dpuf
Gender Aware Beneficiary Analysis Of Saint Lucia's Public Assistance Programme - See more at: http://caribbean.unwomen.org/en/materials/publications/2016/06/gender-aware-beneficiary-analysis-of-saint-lucias-public-assistance-programme#sthash.NovxOheg.dpuf
Financial Support For Single Parents In Caring For Their Children: Private Child Support And Social Assistance - See more at:
http://caribbean.unwomen.org/en/materials/publications/2016/06/financial-support-for-single-parents-in-caring-for-their-children#sthash.vKll9c4D.dpuf