Food and Nutrition Security - Priorities for the Caribbean
Date: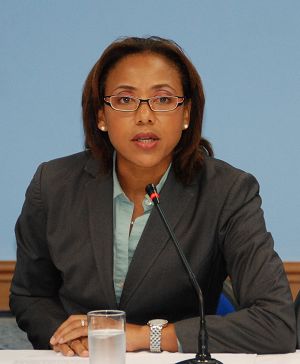 Bridgetown, Barbados
: UN initiated gender and child assessments of Country Poverty Assessments of Dominica, Grenada, Saint Lucia, Antigua and Barbuda, Saint Kitts and Nevis and the British Virgin Islands, the final results of which will be available in a few weeks, will further enrich the evidence base to inform gender and child responsive social policies in the sub region.
Ms. Michelle Gyles-McDonnough, UN Resident Coordinator/UNDP Resident Representative Barbados and the OECS, noted that recent population censuses and the Country Poverty Assessments show that women and youth make up the majority of the poor in Barbados and the OECS, and in the Caribbean in general.
She added: "Moreover, the research shows that there is a clear link between poverty, inequality, and food insecurity at household and community levels. As the UN development system moves into implementation of the United Nations Development Assistance Framework (UNDAF) Barbados and the OECS 2012 to 2016, Food and Nutrition Security has been identified as one of the six priorities agreed by civil society, regional and development partners and all governments in the sub region to be addressed together".
The Resident Coordinator was speaking on the occasion of the International Women's Day 2012 Roundtable -"Empowering Women to End Hunger and Poverty: Feeding the Nation, Growing our GDP" at UN House Barbados. The meeting brought together women farmers from Barbados, representatives of the local business and finance community, the national womens machinery, womens organisations and representatives of the United Nations and other development agencies.
Data for the island of Saint Lucia shows that women have surpassed men in the rate at which they are becoming small holders of agriculture and food production systems. It is expected that a similar pattern could be tracked across the region, changing the traditional role of women in managing nutrition at family and community levels in important ways that will have implications for national efforts to alleviate or eradicate hunger and poverty.
The Resident Coordinator said while there was little severe malnutrition in the region, there were unacceptable levels of food insecurity, with high incidences in rural areas caused from income inequalities, and a worrying declining productivity trend.
"There is therefore good justification for action to empower rural women to manage this changing role in food systems and food security in their communities. In this regard, the discussions must take cognizance and guidance from the International Womens Day message of UN Secretary-General Ban Ki-moon, in which he called for a widespread commitment to gender equality and the empowerment of women 'as a fundamental human right and force for the benefit of all. Development experience reveals that improving womens economic opportunities and access to productive resources has significant impact on womens overall status, and brings sustainable benefits to families and communities,'" the Resident Coordinator noted.
For further information: Please contact De-Jane Gibbons, UN Coordination Analyst, Office of the Resident Coordinator Barbados and the OECS at [ Click to reveal ].