More women are needed in Caribbean Parliaments
Date: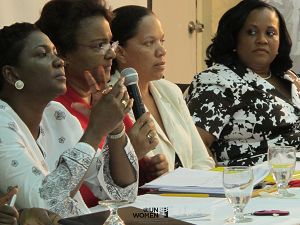 Caribbean women parliamentarians are calling for more women to participate in the political process to ensure increased participation in political decision-making and governance and a balanced approach to development.
'It is not that a woman's perspective is better, it is that women bring their own perspective to the development process and without it the whole would be impoverished.'
The Caribbean Institute for Women in Leadership (CIWiL) Advancing Transformational leadership for Gender Justice in the Caribbean training programme was praised as a critical intervention as there was need for women parliamentarians to support more young women in being trained and brought into elective politics, thereby .  These comments came at a roundtable discussion between parliamentarians and policy makers with CIWiL workshop participants recently in Saint Lucia.
The distinguished parliamentarians were Former Deputy Prime Minister of Barbados, Dame Billie Miller; Jamaican Member of Parliament, the Honourable Natalie Neita-Headley, the People's National Party representative for East Central St. Catherine and Opposition Shadow Minister of Gender Affairs and Development; Senator the Honourable Joanne Massiah Minister of Agriculture, Lands, Marine Resources and Agro-Industry in the Antigua and Barbuda governing United Progressive Party government and Jeannine Compton-Antoine an Independent member of the House of Assembly representing the Micoud North constituency in Saint Lucia.
Participants drawn from Jamaica, Saint Lucia, Belize, Saint Kitts and Nevis and Haiti were told that there were times when it was key for women parliamentarians to collaborate across party lines on policy areas to ensure that women's rights and interests were taken into account when legislation was being passed.
The highly interactive dialogue saw discussion on the scrutiny women face in elective politics; the importance of understanding the socio-economic makeup of the constituency and thus the different needs of the residents; setting ground rules for managing election campaigns and the balancing act between serving the constituents needs, fulfilling party obligations and maintaining a strong relationship with partners, children and the family network.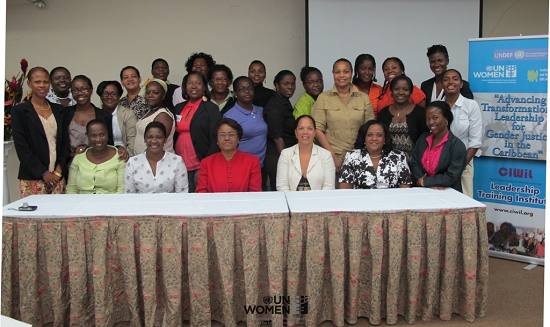 Participation by women in the political process as voters and campaigners is high throughout the Caribbean. However, this has not translated into consistent increases in the numbers of women in elected office.
The CIWiL training programme is one initiative supported by UN Women to address this deficit. The programme seeks to equip women with the necessary skills to effect transformational leadership in their societies and is focussed on young women with leadership potential, women who already occupy leadership positions or who are aspiring to political or public leadership positions in the public and private sectors or civil society organisations (CSOs).
This programme is a component of a wider initiative funded by the United Nations Democracy Fund (UNDEF), to support CIWIL's training programme.  Project partners include the United Nations Entity for Gender Equality and the Empowerment of Women (UN Women); the Institute for Gender and Development Studies at the University of the West Indies (IGDS Mona); and political parties and civil society organisations at the national level.