CIWIL invites applications for their Transformational Leadership Training Programme
Date: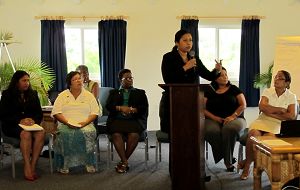 Caribbean Women who are already active or aspiring to political or public leadership are being offered an opportunity to develop and build on their leadership and governance capacities.
This comes with the Caribbean Institute for Women in Leadership (CIWiL) hosting of its second  Advancing Transformational Leadership for Gender Justice in the Caribbean training programme from 16th – 27th May, 2011 in Castries, St. Lucia.
This highly interactive and in-depth programme seeks to equip women with the necessary skills to effect transformational leadership in their societies.
The application process is now open online at www.ciwil.org and will close 30th April, 2011.  Women who are emerging or future leaders from Jamaica, Saint Lucia, Belize and Saint Kitts and Nevis are encouraged to apply.
The programme is focussed on young women with leadership potential, women who already occupy leadership positions or who are aspiring to political or public leadership positions in the public and private sectors or civil society organisations (CSOs).
Leading lecturers, and experts from Government, civil society and the United Nations, will facilitate the highly informative and participatory training.
This programme is a component of a wider initiative funded by the United Nations Democracy Fund (UNDEF), to support CIWIL's training programme.  Project partners include the United Nations Entity for Gender Equality and the Empowerment of Women (UN Women); the Institute for Gender and Development Studies at the University of the West Indies (IGDS Mona); and political parties and civil society organisations at the national level.
Further information on the programme background and the identified territories for participation in  session 3, to be held in Kingston, Jamaica 16th-29th July, 2011, can be found at www.ciwil.org or queries can be addressed to info@ciwil.org.