UN Women Applauds Nobel Peace Prize Award for Women Leaders
Date: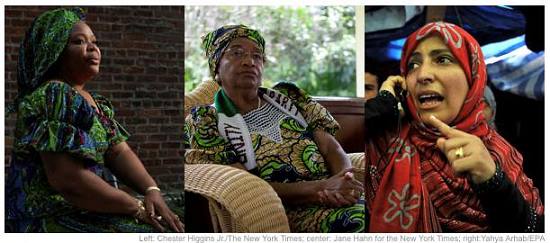 UN Women Executive Director Michelle Bachelet applauded today's decision to award the Nobel Peace Prize to three prominent women peace leaders: President Ellen Johnson Sirleaf of Liberia, her compatriot Leymah Gbowee, and Tawakkul Karman of Yemen. She made the announcement at the start of a three-country Nordic tour in which she will visit Oslo, Norway.
"We are absolutely thrilled with the news and send huge and a hearty congratulations to these three extraordinary women who have overcome huge obstacles in their quest for peace and democracy," said Ms. Bachelet. "All over the world, women are demanding their rights and their equal participation in peacebuilding, democracy and the development of their nations, and this year's Nobel Peace Prize sends a message to the world that now, the 21st century, is the time for women's full and equal participation at all levels of society."
UN Women was created this year to be a champion for women around the world and is promoting women's increased participation and leadership and equal involvement in all processes of peace-making, security, democratization and reconstruction. Since 1992 fewer than 10 percent of peace negotiators have been women. Typically less than 6 percent of reconstruction budgets specifically provide for the needs of women and girls. Efforts to engage women in making and keeping peace have gained momentum through UN Security Council resolution 1325 on women, peace and security adopted in 2000. In 2002, UN Women's predecessor organization published its flagship publication "Progress of the World's Women: Women, War, Peace," authored by Ellen Johnson Sirleaf and former Finish Defence Minister Elisabeth Rehn, a comprehensive study on the specific impact of war on women that helped shape the international agenda.
"This year's Nobel Peace Prize is an important acknowledgement of what women have been demanding for years: the equal involvement of women in all peace, security and democracy decisions. Women's involvement is central for achieving lasting peace and stability and yet, too often, they are excluded from the negotiating table. UN Women stands beside women around the world who are demanding that their voices be heard and they have equal participation in decision-making," said Ms. Bachelet.