Former Chilean president to head new high-profile UN women's agency
Date: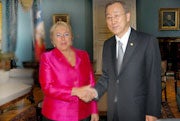 14 September 2010 - Secretary-General Ban Ki-moon today named former Chilean president Michelle Bachelet to head United Nations Women (UN Women), a newly created entity to oversee all of the world body's programmes aimed at promoting women's rights and full participation in global affairs.
The new body - which will receive a large boost in funding and become operational in January - merges four UN agencies and offices: the UN Development Fund for Women (UNIFEM), the Division for the Advancement of Women (DAW), the Office of the Special Adviser on Gender Issues, and the UN International Research and Training Institute for the Advancement of Women (UN-INSTRAW) "I will be at the very core of our final push" to realize the ambitious targets for slashing extreme poverty and hunger, maternal and infant mortality, rampant diseases, and lack of access to education and health services, all by the deadline of 2015.
"We have a little more than three and a half months," Mr. Ban said. "I will discuss this Sunday, when I appoint her formally, how we can make the process very speedy, so that we can appoint and recruit staff and we have to have our agendas. Basically we have all these structures in place. Now it is a matter of how we can speedily implement these structures and policy and visions."
"I ask all the Member States and civil community leaders, and governments, and business communities, to render their full support and cooperation."
Today's announcement follows a unanimous General Assembly vote on 2 July to create a dynamic new entity merging the four offices focusing on gender equality. One of its main goals will be to support the Commission on the Status of Women (CSW) and other inter-governmental bodies in devising policies.
It will also aim to help Member States implement standards, provide technical and financial support to countries which request it, and forge partnerships with civil society. Within the UN, it will hold the world body accountable for its own commitments on gender equality.
For media enquiries please contact:
Oisika Chakrabarti (
[ Click to reveal ]
, tel: +1-212-906-6506.