UNIFEM and the youth of Grantley Adams Secondary School of Barbados
Date: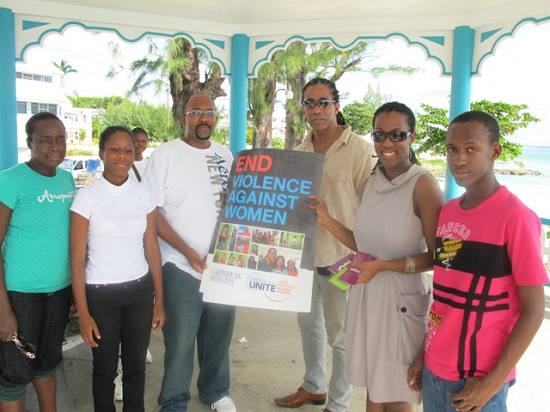 UNIFEM Programme Specialist, Tonni-Ann Brodber took the opportunity of
16 Days of Activism to End Gender-based Violence
to interact with student Peace Ambassadors of the Grantley Adams Memorial School of Barbados.
The students ranging from first to fifth form (12-16 age group) were told that the work to end violence against women is part of the overall effort to reduce societal violence as a whole.
Ms. Brodber shared with the students the objectives of the United Nations Secretary General's UNiTE campaign, which is a multi-year effort aimed at preventing and eliminating violence against women and girls in all parts of the world.
 By 2015, UNiTE aims to achieve the following five goals in all countries:
Adopt and enforce national laws to address and punish all forms of violence against women and girls
Adopt and implement multi-sectoral national action plans
Strengthen data collection on the prevalence of violence against women and girls
Increase public awareness and social mobilization
Address sexual violence in conflict
The Peace Ambassadors programme which is in  place at several schools in Barbados and spearheaded by UNDP Partner for Peace Aja, aims to help young people in Barbados to find alternative means to resolve their conflicts and disagreements. The programme stresses zero tolerance to abuse and violence against women and children.
Aja and Ms. Brodber told the young people that regional musical artistes from Jamaica, Trinidad and Tobago, Barbados and the OECS countries had come on board with the UNiTE campaign and were doing their part to inform their audiences and fans about the campaign's objectives.
Coordinator of the Peace Ambassadors programme at the Grantley Adams Memorial School and School Guidance Counsellor Kathy-ann Bellamy explained that the students meet every Tuesday in their lunch break. At such times, Ms. Bellamy and the assistant coordinator Mr. Julian Bowen, teach the students conflict resolution and leadership skills.
For additional information, please contact UNIFEM (part of UN Women) EVAW Specialist Tonni Ann Brodber, [ Click to reveal ] , 1-246-467-6000 or Communications Specialist - Sharon Carter-Burke, [ Click to reveal ].