Research Brief - Intimate Partner Violence in Five CARICOM Countries: Findings from National Prevalence Surveys on Violence Against Women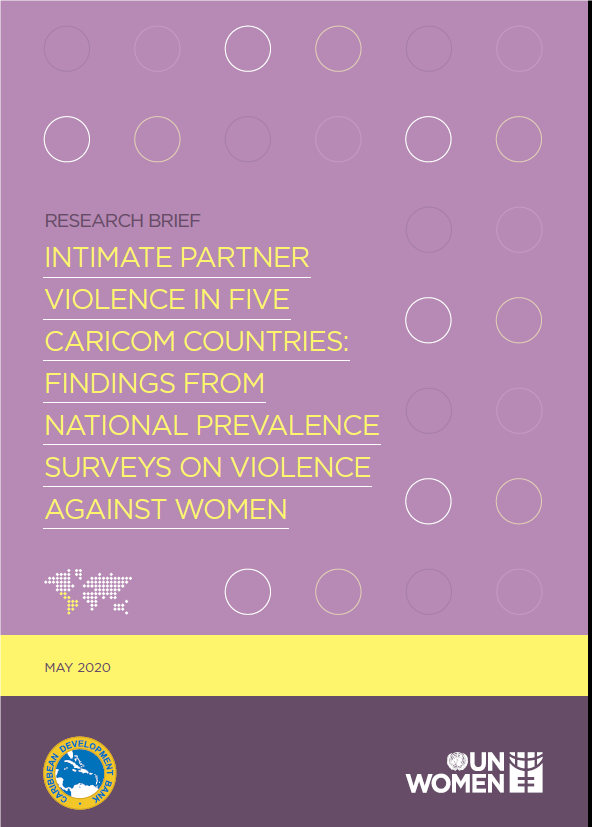 Prevalence of VAWG in the Caribbean is among the highest in the world. VAWG has proven to be so entrenched and normalized that both men and women have a high tolerance for its manifestations, particularly when perpetrated in the context of intimate partner relationships. Data from a variety of sources confirm that even young people hold these views, raising concerns about the intergenerational transmission of VAWG.
From 2016 to 2019, five CARICOM Member States – Grenada, Guyana, Jamaica, Suriname, and Trinidad and Tobago – conducted Women's Health Surveys. These surveys were a collaborative project between Governments, the United Nations Entity for Gender Equality and the Empowerment of Women (UN Women), the United Nations Development Programme (UNDP), the United States Agency for International Development (USAID), the Caribbean Development Bank (CDB), and the Inter-American Development Bank (IDB).
Against this background, this research brief focuses on the prevalence of intimate partner violence (IPV) for each of the five countries where data was collected – both lifetime and current prevalence rates of IPV. The focus is on IPV because it is one of the most common types of VAWG. This brief also focuses on the causes and consequences of IPV, including risk factors associated with physical and/or sexual IPV at both the national and regional levels. Findings presented in this research brief can serve to inform regional and national efforts to develop VAWG prevention and response plans in CARICOM.
View online/download
Bibliographic information