Gender-Responsive Socioeconomic Study on the Impact of COVID-19 on Women in Business and Women Entrepreneurs in Jamaica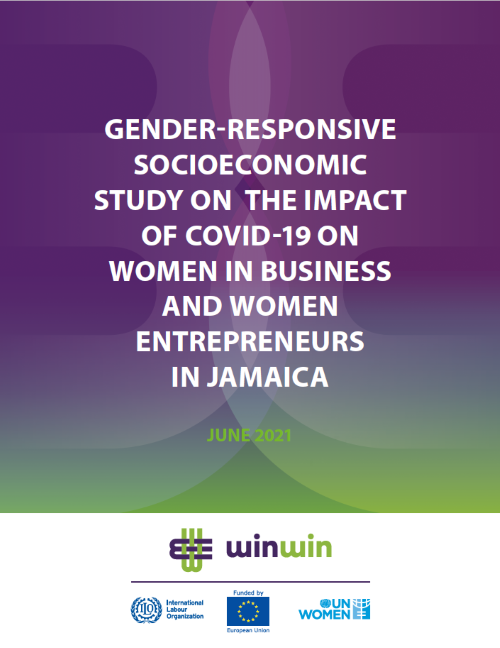 The COVID-19 pandemic has been a profound shock to the Jamaican society and economy. There is no question that while health workers have been on the frontlines responding to COVID-19, the impact has been felt across all walks of society. While everyone is facing unprecedented challenges, the crisis has laid bare and exacerbated the growing economic divide within, between and across socio-economic groups, particularly for women. Women have had to balance work and the availability and affordability of care, and have experienced income loss and been at increased risk of gender-based violence. The COVID-19 pandemic has deepened existing inequalities.
As governments and civil society work to build an inclusive and resilient recovery, continued access to timely data on vulnerability and marginalised groups are required. The increased unpaid care demands placed upon women, and the economic shocks experienced by micro, small and medium enterprises can only be better addressed when we assess the needs for working parents, especially women employees and women entrepreneurs. This publication is the continuation of work that began in 2016, and fills a data gap by providing substantive and robust data on the experiences of women in business and women entrepreneurs to better understand the pandemic's full impact on Jamaica. The impacts of hazards are never gender-neutral, and COVID-19 is no exception. Data is critical to our ability to respond and recover effectively. This Socioeconomic Study on the Impact of COVID-19 on Women, under the Win-Win: Gender Equality Means Good Business Programme (in partnership with UN Women, ILO and EU), provides meaningful findings and insight, and serves as a resource to make sure that responses to and the recovery from the impacts of COVID-19 are more gender-responsive.
View online/download
Bibliographic information