The EU-UN Spotlight Trinidad and Tobago Programme is being implemented with special focus in Tunapuna/Piarco, Mayaro/Rio Claro and Tobago. The TT Spotlight Newsletter Issue 5 focuses on several of recent issues and events including a donation to the TTPS's VWSU, the role of culture and art in addressing GBV, and a campaign to support the Children's Authority.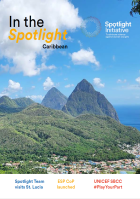 This issue of In the Spotlight Caribbean showcases the work that has steadily progressed for the first six months of this year.

Under the Regional Spotlight Initiative, the UN Women Multi Country Office – Caribbean is advertising this Call for Proposals (CFP) to partner with an academic institution with an established degree programme on gender and/or social statistics.