The EU-UN Spotlight Trinidad and Tobago Programme is being implemented with special focus in Tunapuna/Piarco, Mayaro/Rio Claro and Tobago. The TT Spotlight Newsletter Issue 5 focuses on several of recent issues and events including a donation to the TTPS's VWSU, the role of culture and art in addressing GBV, and a campaign to support the Children's Authority.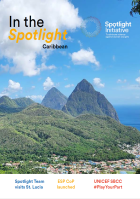 This issue of In the Spotlight Caribbean showcases the work that has steadily progressed for the first six months of this year.

Women and girls around the world are leading the charge on climate change adaptation, mitigation, and disaster response. In solemn recognition of this reality, the United Nations, under the lead of UN Women, commemorates International Women's Day (IWD) 2022, with the theme, "Gender equality today for a sustainable tomorrow." This year, we are highlighting the impacts of global warming on women and girls right here on our Caribbean home and recognizing their outstanding contributions in the response to and fight against climate change.