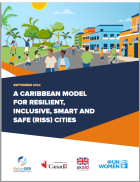 This Caribbean Resilient, Inclusive, Smart and Safe (RISS) Cities Model for the planning and development of public space in urban and other settlements addresses the integrated nature of urban planning
The United Nations Joint SDG Fund has injected nearly $1 million into this programme which takes steps to facilitate the sustainable economic empowerment of women, youth and people with disabilities and their greater access to financial mechanisms, knowledge sharing and capacity building particularly in areas of agribusiness and fishing.

Women and girls around the world are leading the charge on climate change adaptation, mitigation, and disaster response. In solemn recognition of this reality, the United Nations, under the lead of UN Women, commemorates International Women's Day (IWD) 2022, with the theme, "Gender equality today for a sustainable tomorrow." This year, we are highlighting the impacts of global warming on women and girls right here on our Caribbean home and recognizing their outstanding contributions in the response to and fight against climate change.