The EU-UN Spotlight Trinidad and Tobago Programme is being implemented with special focus in Tunapuna/Piarco, Mayaro/Rio Claro and Tobago. The TT Spotlight Newsletter Issue 5 focuses on several of recent issues and events including a donation to the TTPS's VWSU, the role of culture and art in addressing GBV, and a campaign to support the Children's Authority.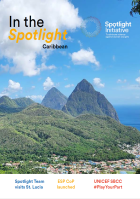 This issue of In the Spotlight Caribbean showcases the work that has steadily progressed for the first six months of this year.

"How can we make sure women and marginalised groups are part of the ecosystem creating employment and also accessing the opportunities for economic growth?" This was one of several topics of discussion during the "Road to the Summit: A Green and Equitable Future for the Americas" panel discussion hosted by the Atlantic Council, Adrienne Arsht Latin America Center, in partnership with the US Department of State leading to the Ninth Summit of the Americas.