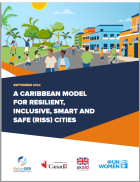 This Caribbean Resilient, Inclusive, Smart and Safe (RISS) Cities Model for the planning and development of public space in urban and other settlements addresses the integrated nature of urban planning
What are the laws that exist across the Caribbean that condone and foster gender-based violence (GBV)? Though most Caribbean countries have existing laws on domestic and sexual violence, there is a restrictive understanding and definition of GBV that facilitate inequitable gender norms.
This past year, the COVID-19 pandemic severely impacted the tourism and hospitality sector – one of the key economic drivers of Gross Domestic Product (GDP) – due to border closures or restricted movement. This economic shock also extended to craft traders, many of whom are responsible for their families' livelihoods and are women. What did this mean for those whose livelihoods were reliant on tourist arrivals?