Caribbean Women Break the Silence for #16Days
Date:
This 16 Days of Activism Caribbean women have broken their silence to expose daily experiences of street harassment and sexual violence. Their speaking out loud highlights that violence against women is a lived reality for many of our loved ones and can have life or death consequences. All persons have a responsibility to see that we eliminate all forms of violence against women and girls.
Barbados
Standing in your own power, truth and dignity as an individual were the take-aways for final year law students of the University of the West Indies Cave Hill Campus as they participated in a Gender and Human Rights Study Visit to UN Women.
UN Women MCO Caribbean Head of Office a.i. Tonni Brodber explored concepts of gender, power, human rights, gender based violence and the international human rights frameworks including CEDAW during the session to mark the start of the 16 Days of Activism to End Violence Against Women. Exploration of the Access to Justice roadmap for female victims of sexual assault crimes in different jurisdictions was one of the key activities for the students who represent a number of Caribbean nations.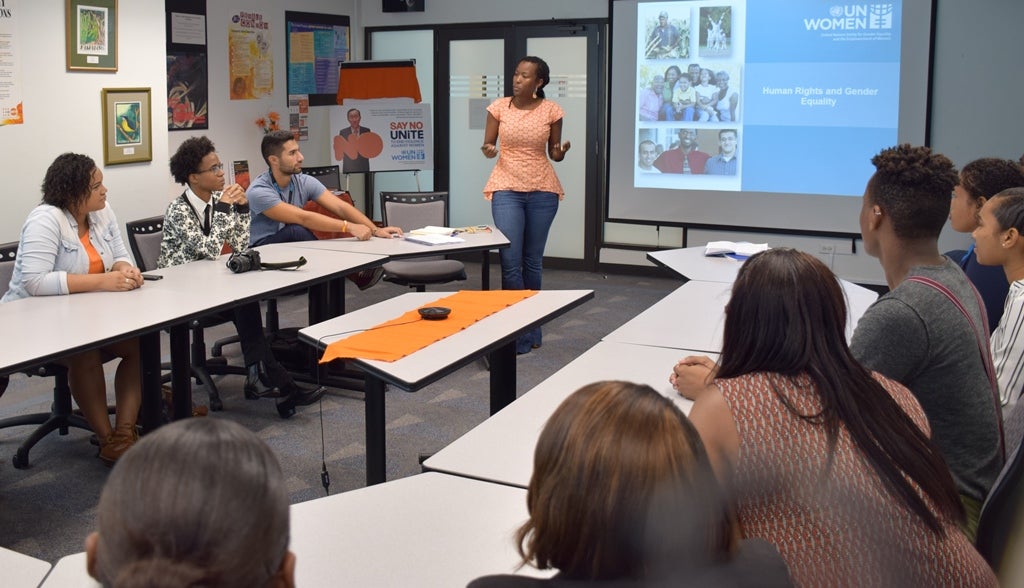 UN Women Head of Office a.i. Tonni Brodber presenting on Gender and Human Rights to visiting final year law students of the University of the West Indies Cave Hill Campus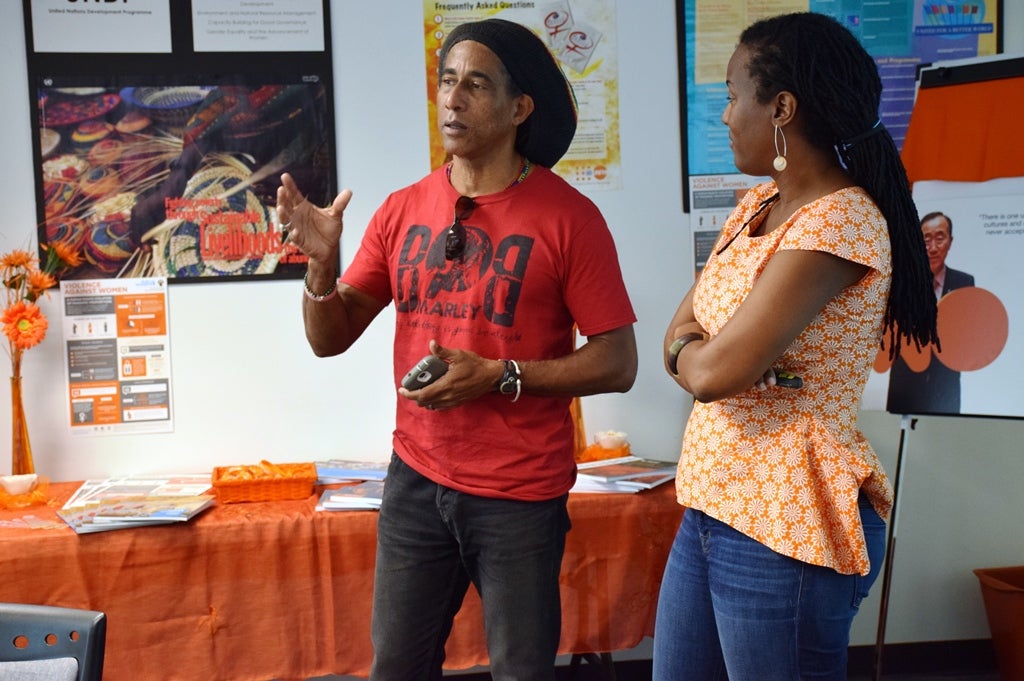 UNiTE Caribbean Artist and HeForShe Ambassador AJA Aja Poet and UN Women Head of Office a.i. Tonni Brodber during a study visit with UWI Cave Hill final year law students on International Day for the Elimination of Violence Against Women at the start of #16Days
Photos: UN Women/Sharon Carter-Burke


Kingston, Jamaica
As part of #16Days activities, UWI LEADS of the University of the West Indies Mona Campus and UN Women hosted the clothesline project which challenges the 'culture of silence' around rape and encourages women, men, allies and survivors and their friends and families, to tell their story by painting a statement on a T-shirt and hang it on "the Clothes Line".
It is a direct challenge to rape culture and symbolises the hanging of our 'dirty laundry' in public, essentially saying that women and men are willing to step forward and speak the truth and show support in spreading the message of reducing violence against women and girls. This activity coordinated under the UN Women-funded Safety and Sexual Health Project.
Photos: UN Women/Khristina Godfrey


Port of Spain, Trinidad and Tobago
The Network of Rural Women Producers of Trinidad and Tobago, UN Women MCO Caribbean, ParlAmericas and the Parliament of the Republic of Trinidad and Tobago observed #16DaysofActivism with a consultation on "Addressing Gender Based Violence in the framework of the Sustainable Development Goals.
The event also featured the launch of a web portal http://parlgendertools.org developed by UN Women and ParlAmericas which includes tool kits to support parliamentary work in the Caribbean on gender equality.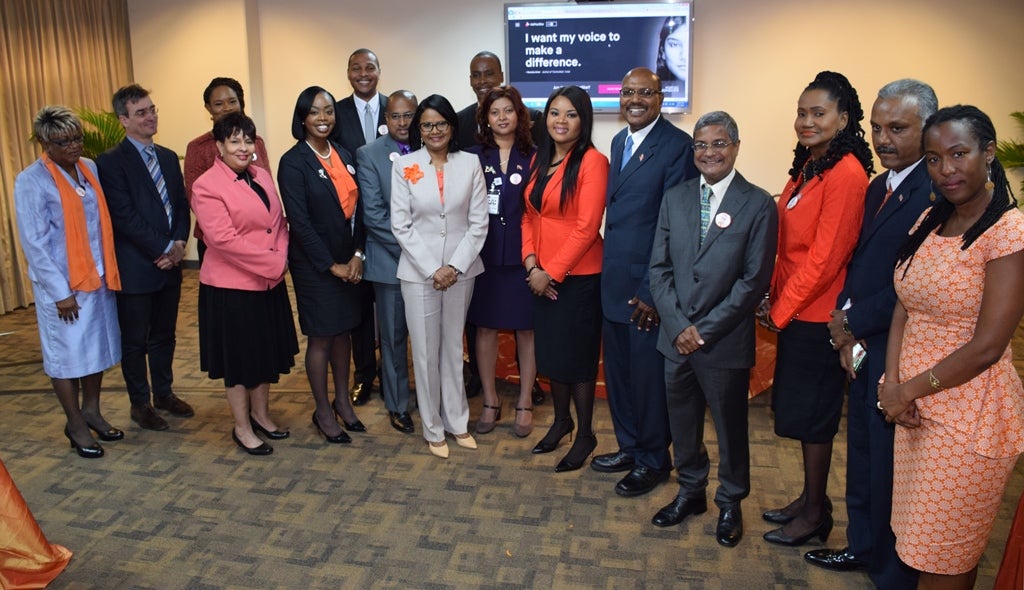 Trinidad and Tobago Parliament consultation 16 Days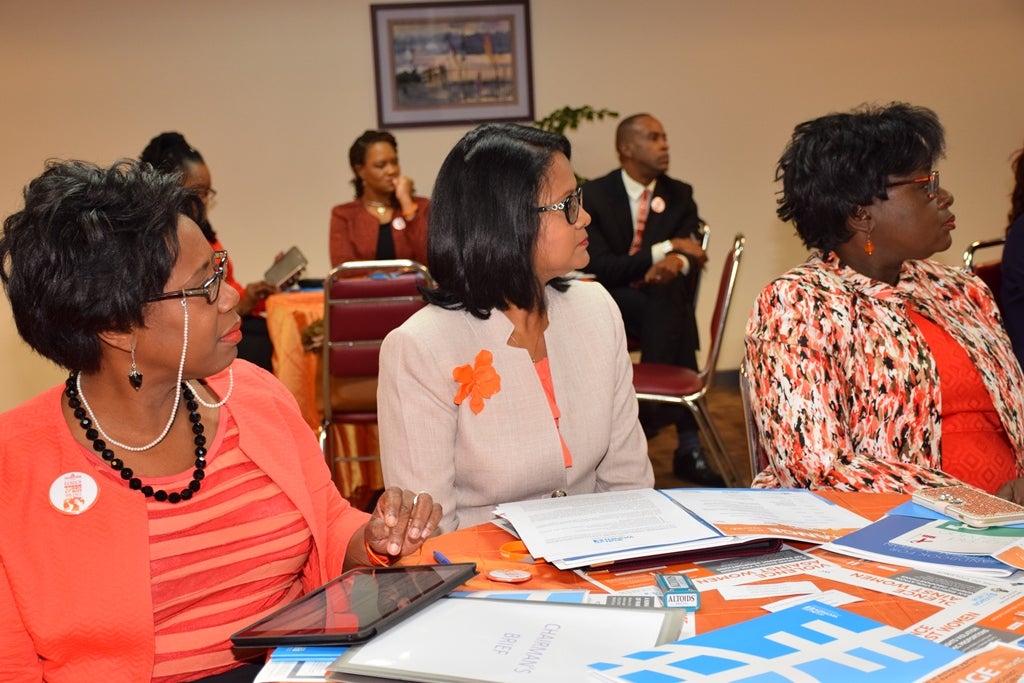 (from left - Honourable Bridgid Annisette-George - Speaker of the House of Representatives; President of the Senate, Senator the Honourable Christine Kangaloo and Leader of Government Business in the House of Representatives, Camille Robinson-Regis)
Photos: UN Women/Sharon Carter-Burke
Kingston, Jamaica
IDEVAW Silent march
The Silent Protest is a civil society led initiative held November 25 to commemorate the International Day to Eliminate Violence against Women - in the context of HIV. Organised by JASL, one of UN Women's partners, alongside other civil society partners such as WE-Change, Eve for Life and WMW, among others. The protest took place near a major thoroughfare in the capital city Kingston during peak hour traffic. Many participants cover their mouths to symbolise the high levels of under-reporting of victims and the culture of rape that often pushes women into silence. This is the second year that this event is being held. JASL gave a tentative headcount of 300 participants.

Photos: UN Women/Khristina Godfrey


In the safe and healing space offered by #OrangeLights, seven survivors shared their stories of sexual and/or intimate partner violence or shared the stories of other women not yet ready to share their stories themselves.
Poetry and music featured at this the second annual staging of #OrangeLights, - a storytelling event organised by WE-Change and UN Women.
Two of the women who shared their experiences via poetry highlighted the connections they feel with the community of Caribbean women that has been emerging since two women in Barbados using the hashtag #LifeInLeggings, began sharing stories of sexual harassment and sexual violence on Facebook via the hashtag during #16days.
Survivor, author and activist Tamika Williams read from her book "Unearthing the Diamond"


UN Women Jamaica National Programme Coordinator Taitu Heron