Building a Future with Womens Vision
Date: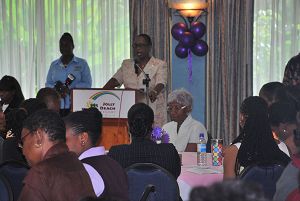 Saint John's, Antigua:
Unable to take one more night of abuse from her father, she wanted to take her life. But that was not to be her final act; she was saved by a teacher.
Told in the voice of a teacher relating an encounter with a student, women from all sectors came together to share their lived realities with gender based and sexual violence, in response to the Antigua and Barbuda Directorate of Gender Affairs IWD theme - Building a Future with Womens Vision.
Using popular cultural expressions of poems, dramatisations and heart to heart talks, 250 participants at the 2012 International Womens Day Activity shared on psychological, financial, emotional and physical violence, challenges of teen mothers not being accepted back into school and child sexual abuse.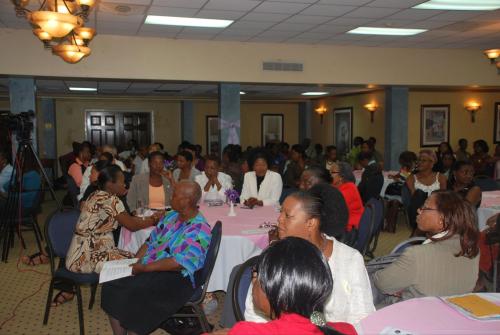 The event saw the launch of the draft National Action Plan to prevent and reduce incidences of sexual violence, developed by the Directorate.  Executive Director, Ms. Sheila Roseau said there was an overwhelming response to their IWD initiative with women speaking to their realities thereby filling in the gaps in the action plan.   

Roseau explaining that there were presentations delivered from a health and legal perspective in terms of the state actor response noting that: The space, the ambience was there for persons to feel safe to share and to know that support was there. It was getting their input in a very real way in terms of the services and the support that is needed.   

This happened to me and I didnt report it because I wasnt convinced that reporting is gonna get me anywhere; the police need more training, they need to be more sensitive, it was getting information from the women themselves, Roseau stressed.  

She said feedback from the participants indicated that the initiative was a worthwhile one with first time participants expressing great appreciation at having been included in the IWD event and many expressing their anticipation for further involvement and action.  

Development of National Action Plans and Protocols form part of the technical assistance UN Women is providing to eight regional territories including Antigua and Barbuda under the Strengthening State Accountability and Community Action to End Gender Based Violence Project, which seeks to support the justice and security sectors and the non-governmental sector in their efforts to reduce violence against women.

The Directorate of Gender Affairs presented the strategic action plan to Dr Quinn-Leandro for submission to Cabinet.

The participants were drawn from the private  sector, community organisations, youth organisastions, womens advocates, uniformed organisations including police and the defence force, church groups, and womens organisations.

Roseau who delivered the opening remarks was joined by other presenters including the Minister of Gender Affairs Dr Jacqui Quinn-Leandro, who gave the opening address; Speaker of the House D Gisele Isaac-Arrindell who spoke on exploring interpersonal relationships; Director of Youth Affairs Cleon Athill on community based action; Youth Ambassador Farmala Jacobs on the topic embracing the voice of the youth; spoken word artist Dotsie Isaac Gellizeau and Women of Antigua Principal,  Zara Airall.

The keynote speaker was Rosina Wiltshire, the CARICOM Advocate for Gender Justice.

Private sector firms RBTT, Scotiabank and Brysons Insurance also provided a contribution to the Directorate of the Gender Affairs to support the event.