Gender and the Economic Crisis - Women as Change Agents
Date:
Regional Programme Director of the UNIFEM Caribbean Office Ms. Roberta Clarke noted that while both men and women are being harshly affected by the present global decline, a gender analysis of the impacts is required to help with prescriptions for appropriate action for men and for women and their families.
She was at the time addressing the Barbados National Consultation for Civil Society Organisations and Non-State actors under the theme, Gender and the Economic Crisis, Recovery and Beyond: Women as Change Agents.
"Yet without making a case that quantitatively more women than men are effected, I think that I would argue that there is a particularity to women's poverty in the Caribbean that demands attention. What is this particularity? Simply put, women's burden of care".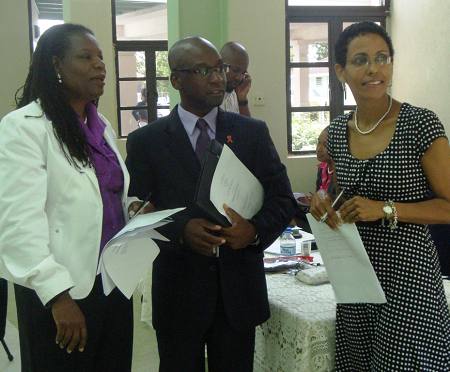 Minister of Family, Youth and Sports, the Honourable Stephen Lashley (centre) with President of the National Organisation of Women (NOW) Yvonne Walkes and Regional Programme Director of the UNIFEM Caribbean Office Ms. Roberta Clarke
Ms. Clarke told the conference which was hosted by the National Organisation for Women (NOW), that particular attention must be given to the issue of women's poverty because of the negative multiplier effects. Where children are women's responsibility, then women's poverty is children's poverty and in this transmission of intergenerational poverty, societies are impoverished and vulnerable to the host of social challenges associated with poverty.
The current global economic crisis has further complicated the gender equality agenda. An economic crisis that developed in the wealthiest economies has and will continue to have far-reaching consequences for the rest of the countries. The Beijing Platform for Action (BPOA) 1995 is a rallying call for the complete incorporation of gender analysis in public sector planning and policy development. This rallying is also a rallying of national machineries which are called on to lead the discussion and commitment for gender mainstreaming.
The BPOA methodically carves out complementary and mutually reinforcing roles and actions of state and non-state actors.

Gender mainstreaming is something of a curse word now for many, denounced as the scourge of women's empowerment programming. But at the time the rationale was clear- that women and men whatever their commonalities also had very different needs, responsibilities and opportunities because of gender roles, expectations and mostly unequal access to resources. These inequalities were and continue to be expressed in women's limited access and control over the means of production - land, credit in particular; in the differential valuing of women's and men's labours. Women's work in the domestic or reproductive sphere is unmonetised, yet fundamental and taken for granted. In the public or productive sectors of the economy, women's work is under-valued and compartmentalised in low paying sectors of the economy. Pay inequity is a global phenomenon. Everywhere women's formal labour market participation is lower than that of men's. This has consequences for many areas, and in particular for access to contributory social protection schemes, especially important for the economic security of the elderly.
Ms. Clarke told the audience, which included the Barbados Minister of Youth, Family and Sports, the Honourable Stephen Lashley that we ought to find a way to include female values into the principles of principles of good economic governance:
"Their lives, structured by the imperative of caring for others, of cutting and contriving to make ends meet, of mediating family and community conflicts, of voluntary service - allow for a distilling of core values that ought to be explicitly taken into account in the political economy. These habits of economy, of care, of service keep our countries, that collective of families together.
Women's transformational leadership is not only about the values that we bring to the public dialogues, but also about the articulation that the whole of the public's business is also women's business. When we think of women as advocates for change, our challenge in acting is always to make the connection between the personal and the political; between the micro and the macro.
It is as a former Central Bank Governor of Barbados Sir Courtney Blackman, in his critique of neo-liberalism exhorted:
"Let's go back to first principles:
Economies are comprised of people, not of graphs, mathematical symbols or statistical data
The market is a concept; it does not cerebrate, only people do
Only people, not economies or markets, have problems and so our theories must be people-oriented
In that address, the former Central Bank Governor reminded us that economic development results from the efforts of people, usually working in groups. Working through this crisis, emerging stronger on the other side requires all our best thinking and doing.