Leading Caribbean Artistes UNiTE to End Violence Against Women
Date:
Leading musical artistes from across the region have committed to supporting the Secretary General's Campaign, Unite to End Violence against Women. Working with the UNIFEM Caribbean office, the artistes came together in Barbados for a two day workshop - April 13th to 14th - which served to sensitise them to the goals of the Secretary General's campaign and to generate ideas about creative approaches to promote ending violence against women through the campaign.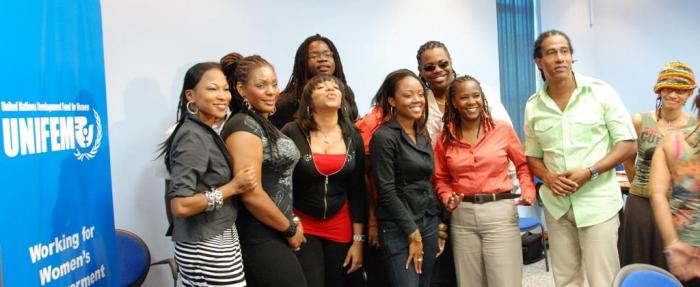 Artistes gathered for the UNiTE workshop
As a first step, drawing on their experiences as artistes, mothers, teachers, fathers, the artistes recorded public service announcements speaking to the need for a united front to end the culture of violence against women. These messages which will be aired on both television and radio, builds on earlier initiatives to bring greater awareness to the incidence of the scourge of violence against women as well as to increase buy-in and support for the campaign's goals. The artistes formed an online network to continue their collaboration on the campaign.
In addition they agreed to use their presence on stage during the high participation and peak publicity of national festivals and carnivals across the region and the Caribbean Diaspora in London, Canada and the United States to inform their audiences about the UNiTE campaign.
Regional Programme Director Roberta Clarke, in her opening remarks stated that promoting a culture of peace was a priority and that UNIFEM is working with men, faith-based leaders and institutions, and of course the artistes in the popular music traditions to carry one consistent message - zero tolerance to all forms of violence against women:
"We know that music is such an important site for the engagement with public around the values that we wish our society to more closely embrace. You know that, it is what you do. All of you here have reflected in your music on the values that matter to you. Music matters and those who produce it are pretty powerful, influential, trendsetters",
"Ms. Clarke said.
Indeed calypso singer from Barbados Natalie Burke in her welcome remarks pointed out the opportunities for influencing positive change given the "power of the pen, the power of the voice and the power of their personality". The artistes mainly from the calypso/soca genre were from Barbados - Natalie "Natahlee" Burke, Terencia "TC" Coward-Thompson, Indra "Indrani" Rudder, Michael "Mikey" Mercer and Edwin Yearwood; Dominican national but residing in Jamaica - Nelly Stharre, St. Kitts - Kevin ,b>"Masud Sadiki" Donovan, St Lucia - Nicole David, St. Vincent and the Grenadines - Kiokya Cruickshank and from Trinidad and Tobago, Destra Garcia, Patrice Roberts, and Brian Morris.
For more information, please contact : Sharon Carter-Burke, [ Click to reveal ] , 1-246-4676124.