WEPs in Action – Case Study: Private Sector Organization of Jamaica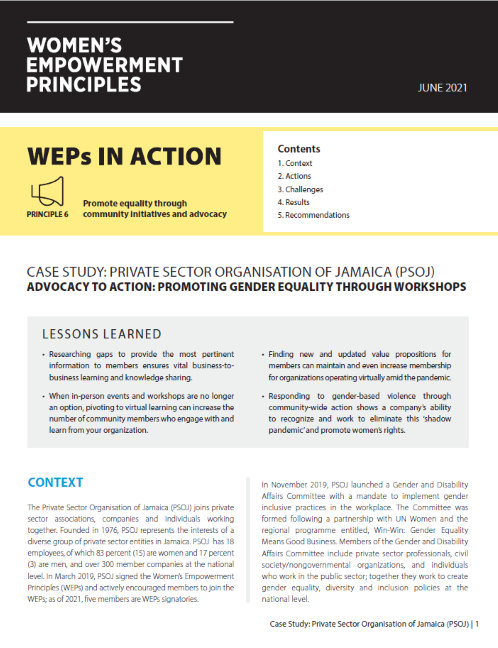 The Private Sector Organisation of Jamaica (PSOJ) is a national organisation of private sector associations, companies and individuals working together to promote a competitive and productive private sector. The organisation influences issues of national policy of a political, social, or economic nature, as well as the development of the private sector. In the case study, learn more about how the PSOJ are advocating for gender equality in the workplace for all their member companies through training.
The key points of the case study are:
Researching gaps to provide the most pertinent information to members ensures vital business-to-business learning and knowledge sharing.
When in-person events and workshops are no longer an option, pivoting to virtual learning can increase the number of community members who engage with and learn from your organization.
Finding new and updated value propositions for members can maintain and even increase membership for organizations operating virtually amid the pandemic.
Responding to gender-based violence through community-wide action shows a company's ability to recognize and work to eliminate this 'shadow pandemic' and promote women's rights.

View online/download
Bibliographic information