In Saint Lucia, meaningful and effective public intervention in the childcare market is necessary to create a system that works for all parents/guardians and children, and that benefits the overall economy. In fact, an increase in access to quality early childhood services can have several social and economic benefits, and help to bring Saint Lucia closer to meeting various Sustainable Development Goals (SDGs) in the 2030 Agenda for Sustainable Development.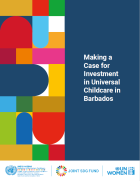 This report makes an argument for public investment in universal childcare in Barbados; specifically, it explores the potential effects and benefits of investing in universal childcare. Effective provision of universal childcare is defined as one that eliminates barriers to equitable access and participation.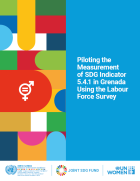 This report documents the experience of piloting three stylized retrospective questions on unpaid domestic and care work in the Grenada Labour Force Survey (LFS) to generate Sustainable Development Goal (SDG) Indicator 5.4.1, i.e., proportion of time spent on unpaid domestic and care work, by sex, age and location.