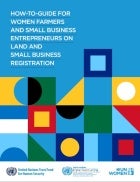 This Report is a How-to-Guide for Women Farmers and Small Businesses Entrepreneurs on Land and Small Business Registration in the designated project countries of the "Building Effective Resilience for Human Security in the Caribbean Countries: The Imperative of Gender Equality and Women's Empowerment in a Strengthened Agriculture (and related Agri/Fisheries Small Business) Sector" Project.
This publication navigates the entrepreneurial journeys of three women in business in Jamaica; Rita Hilton, Founder and CEO, Carita Jamaica; Michelle Smith, Founder and CEO, Chocolate Dreams; Jean Lowrie- Chin, Founder and Executive Chairperson, PROComm.
The COVID-19 pandemic has been a profound shock to the Jamaican society and economy. There is no question that while health workers have been on the frontlines responding to COVID-19, the impact has been felt across all walks of society. While everyone is facing unprecedented challenges, the crisis has laid bare and exacerbated the growing economic divide within, between and across socio-economic groups, particularly for women. Women have had to balance work and the availability and affordability of care, and have experienced income loss and been at increased risk of gender-based violence. The COVID-19 pandemic has deepened existing inequalities.