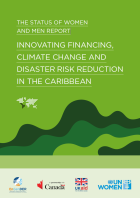 This Status of Women and Men Report focuses on coping mechanisms adopted by men and women in response to large- and small-scale, sudden and slow-onset, frequent and infrequent, and natural or man-made hazards. The report profiles the Caribbean to provide insights into areas of vulnerability, climate change and disaster risk reduction methods adopted in the region.
For women and men to benefit equitably from economic growth, there must be recognition of the disparities between them, and robust evidence-based policies to eradicate any inequalities.
"Turning promises into action: Gender equality in the 2030 Agenda for Sustainable Development" provides a comprehensive and authoritative assessment of progress, gaps and challenges in the implementation of the Sustainable Development Goals (SDGs) from a gender perspective. The report monitors global and regional trends in achieving the SDGs for women and girls based on available data, and provides practical guidance for the implementation of gender-responsive policies and accountability processes.